Analytics for #wcw
Hashtag analytics for #wcw are presented below for the past 24 hours using
Twitter's streaming API
for a 1% sample of all tweets.
Upgrade your account
to view more detailed information.
Definition of #wcw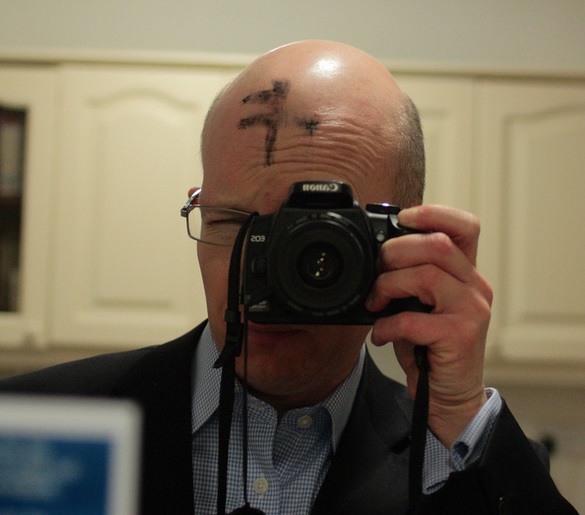 by 
spurbrick
As Catholics around the world celebrate Ash Wednesday on March 5, 2014, many took to Twitter to share photos of their forehead marks on the hashtag
#MyAshes
. The hashtag #MyAshes was created by the National Catholic Reporter and began asking social media users to share their Ash Wednesday selfies. The NCR tweeted, "Remember to tweet us your
#AshWednesday
selfies tomorrow using the hashtag #MyAshes. We can't wait to see all your foreheads!" The hashtag has so far reached a total of 374 tweets and made a whopping 2.6 million impressions. Definitely not bad for a Catholic newspaper on a social media roll.

[caption id="attachment_283817" align="aligncenter" width="613"]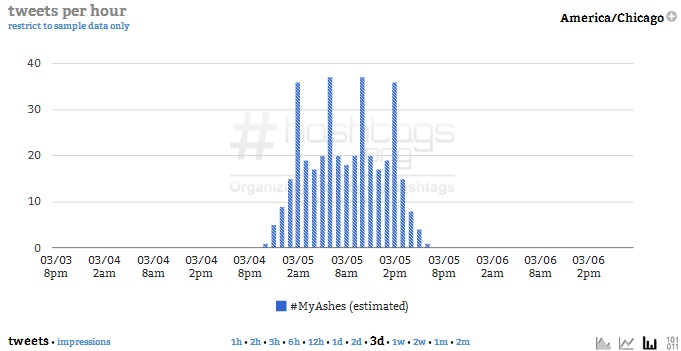 Courtesy of
Hashtags.org Analytics
[/caption] An online magazine, Busted Halo, also featured their yearly photo contest called "Show Us Your Ash". The hashtag
#ShowUsYourAsh
was created by the group and asked people to also share their selfies on Twitter or Instagram. Busted Halo Tweeted, "May the best ash photo win!" The company is offering to send a iPad Air to the winner. Yet, even with the contest, the hashtag's tweet numbers reached only a total of 88 so far. It has also made 16,400 impressions.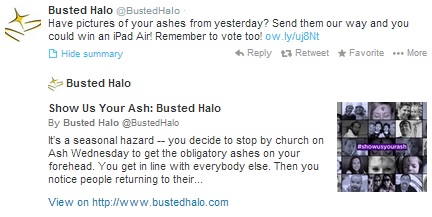 [caption id="attachment_283819" align="aligncenter" width="614"]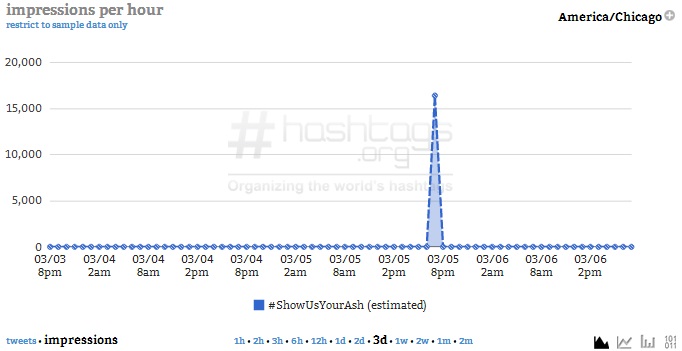 Courtesy of
Hashtags.org Analytics
[/caption] Social media users also shared photos using the more generic 
#Ashtag
, Some shared how thick their ashes were compared to previous years while others posted about the things they reflected about as Lent season begins. #Ashtag has generated 24,100 tweets so far and has made 13.65 million impressions. [caption id="attachment_283821" align="aligncenter" width="613"]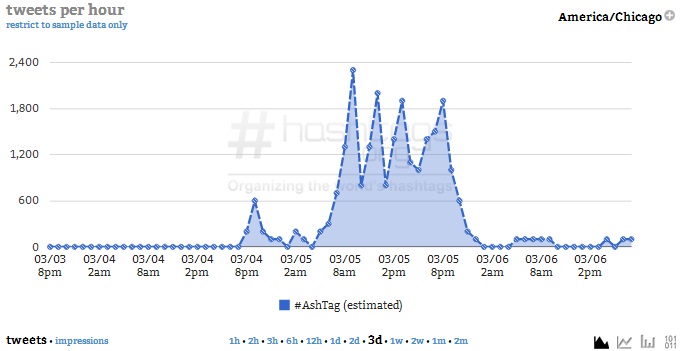 Courtesy of
Hashtags.org Analytics
[/caption] For Roman Catholics, Ash Wednesday officially commences the Lenten season, which lasts 40 days. Christians hear mass and are marked by the priest or bishop with ashes on their forehead, forming a cross. It is a time for prayer and contemplation for churchgoers in anticipation for Holy Week and Easter Sunday. According to the latest estimate by BBC News in March 2013, there are around 1.2 billion Roman Catholics in the world based on Vatican figures. More than 40 percent live in Latin America while only 7.3 percent are in the US and 23.7 percent are in Europe. [
More...
]
#wcw 24-Hour Trend Graph Analytics
Expand Your Analytics View
Track your hashtags for up to 12 months, and with 100% accuracy!
The past 24 hours just isn't long enough. Upgrade today and track everything, including usage, exposure, who your most prolific users are, and what other hashtags you should be targeting.
Expand Your Analytics Now
#wcw Prolific Users
#wcw Related Hashtags
#wcw-Related Tweets