??by?
?Kevin Marks
?
#CyberMonday
may just be the Monday that comes after
#BlackFriday
but it is also one of the most celebrated shopping events in the US and some parts of the world. Both occasions are not official holidays but are considered by many retail companies as such. #CyberMonday was first introduced on November 28, 2005 and has become one of the most exciting shopping days of the year afterwards because of the successful turnout. In 2010, shoppers spent over $1 billion on this day alone! Although it originated in the United States, Cyber Monday has also become a common event among Internet retailers in the United Kingdom, Germany, Canada and Chile. Avid shoppers will spend on two things mainly during Cyber Monday ?- shopping and food. Many of the huge names in retail will be offering great discounts and promos.
What's The Difference?
The big difference between Black Friday and Cyber Monday is the way that people shop. 84 percent of purchases on Cyber Monday are actually made online. The shopping holiday becomes a very good venue for people who weren?t able to shop on Black Friday or wish to avoid the hassle and rush of grabbing things at a discount just after
#Thanksgiving
Day. Cyber Monday has some of the biggest names in the retail industry offering their lowest prices, like Target (
@Target
), WalMart (
@Walmart
) and Best Buy (
@BestBuy_Deals
). Another huge advantage is that small businesses can also benefit and grow their customers by getting involved in the online activities. In fact, as early as today, retailers and consumers both are bracing themselves for the incoming frenzy by announcing where the best deals will be. Here's the Twitter activity on #CyberMonday this early. We can also see that people have been talking about the event since November 21.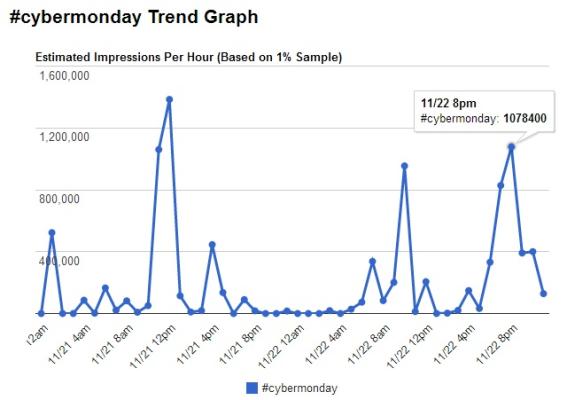 Courtesy of
Hashtags.org Analytics
A look at what related hashtags are being used with it show us that the most popular are #BlackFriday and
#Free
. The account
@iCyberMonday
is one of its most prolific users, which upon looking at its follower count, may have just been created for this occasion as a one-stop shop for all things #CyberMonday. You can run your own
analytics search on the hashtag
to find out who's saying what and when at any time.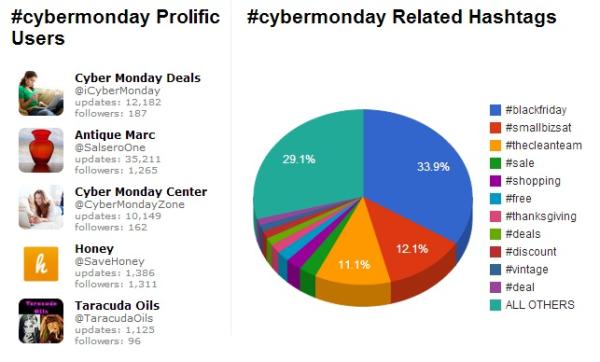 Courtesy of
Hashtags.org Analytics
Significance Of #BlackFriday and #CyberMonday
Cyber Monday and Black Friday are used by experts as gauges to determine the full health of the economy. People are constantly looking out for the latest news and information as to where they can avail of great products at excellent rates. According to survey in 2010, about 62 percent of shoppers do not join Black Friday because of the crowds, while 34 percent don?t feel that it?s worth getting up too early in the morning. However, regardless of these, 212 million people spent around $45 billion shopping on these days alone. Cyber Monday is particularly catered to those who wish to stay home and find more convenient ways to shop. Since Christmas is just around the corner, a lot of individuals are looking for quick and cheap ways to start shopping for their loved ones and family. Cyber Monday offers great deals and is expected to open its own web portal soon for more convenient shopping. In 2012, 27 percent of shoppers polled said they intend to skip Black Friday because of the crowds. 41 percent plan to shop on the internet on Cyber Monday, instead. You have this weekend to plan. Have you prepared your online list for #CyberMonday?