It's the biggest shopping day of the year in America-both online and in the stores. After a seemingly quick #Thanksgiving, shoppers blew up social media with mixed feelings about the day after: #BlackFriday. Notorious for insane shopping frenzies and crazy markdowns on even the lowest of sales prices, #BlackFriday lives up to its name in a history of violent shopping experiences, ridiculous sales prices, and the ever so infamous introduction of stores opening on Thanksgiving day. All of this madness has brought #BlackFriday to the top of the weekend's most trending hashtags as social media users described their scores, experiences, or feelings toward the event.

The graph above shows just how early people were up and out to get their Christmas shopping done. Showing tremendous Tweet rates over #Thanksgiving evening shows that a vast amount of shoppers had already started their #BlackFriday. Carrying into the morning and far into the afternoon, people panicked and rushed from store to store hoping to score huge savings for their wallets. With all the chaos, there were plenty of other hashtags related to #BlackFriday including some mentions of it without hashtags such as #BlackFriday "fights", "protests", and specific products that were promoting some deals. There was certainly plenty to be said about the chaos.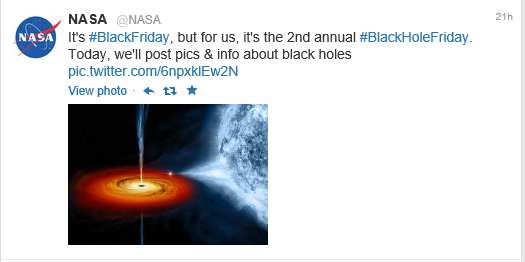 Some took the opportunity to advertise things other than retail products. Some Twitter users from outside of America thought it was silly how crazy the whole experience is. Still, some people wanted to share how?successful their shopping trips were and joked about how tough it was to survive the excitement. There was also plenty of mention of protests held inside and around large shopping centers that mainly aimed to remind shoppers of what is really important in the upcoming weeks. Other protests (mainly angry Tweets or posts) poked at the fact that #Thanksgiving had gotten some of its meaning taken away as companies decided to open their doors before Friday even began.




Though the shopping season is far from over, it can certainly be said that every year's start with #BlackFriday is as crazy as the last. Fortunately with #CyberMonday coming up-all done from computers-there will hopefully be less chaos than seen during #BlackFriday.
Definition of #BlackFriday
Featured graphic: From Pipocacombo.com. Creative Commons 2.0.