#AMA2012
. Unlike the previous AMAs, a new category was introduced this year for best ?Electronic Dance Music?. The new category was won by David Guetta (
@davidguetta
). Other nominees for the new award included Skrillex (
@Skrillex
)?and Calvin Harris (
@CalvinHarris
). Some of the top artists who received awards were Justin Bieber (
@JustinBieber
), Rihanna (
@Rihanna
), Taylor Swift (
@TaylorSwift13
)?and Nicki Minaj (
@NickiMinaj
). Bieber won all his three nominations while Minaj grabbed two. Bieber won Artist of the Year, Favorite Pop/Rock Male Artist and Favorite Pop/Rock Album for ?Believe?. The Old Navy New Artist of the Year award went to Carly Rae Jepsen (
@CarlyRaeJepsen
). Some of the familiar names also added more trophies to their arsenal such as Katy Perry (
@KatyPerry
) garnering Favorite Pop/Rock Female Artist, Taylor Swift having Favorite Country Female Artist and Maroon 5 (
@Maroon5
) grabbing Favorite Pop/Rock/Band/Duo/Group. As for the country category, Luke Bryan (
@LukeBryanOnline
) nabbed Favorite Country Male Artist, while Lady Antebellum (
@LadyAntebellum
) won Favorite Country Band/Duo/Group. Carrie Underwood?s (
@CarrieUnderwood
) ?Blown Away? also won Favorite Country Album. Beyonce (
@Beyonce
) was Favorite Soul/R&B Female Artist, while Usher won the male division. Nicki Minaj won Favorite Rap/Hip-Hop Artist and her album ?Pink Friday: Roman Reloaded? also won Favorite Rap/Hip-Hop Album. Favorite Alternative Artist went to Linkin Park (
@LinkinPark
), Favorite Latin Artist went to Shakira (
@Shakira
), Favorite Contemporary Inspirational Artist went to tobyMac (
@therealtobymac
), while Adele (
@OfficialAdele
) won Favorite Adult Contemporary Artist. Rihanna?s ?Talk That Talk? won Favorite Soul/R&B Album. Twitter fans can follow the recent updates and behind-the-scenes news using the hashtag #AMA2012. Here's the hashtag's activity at its peak.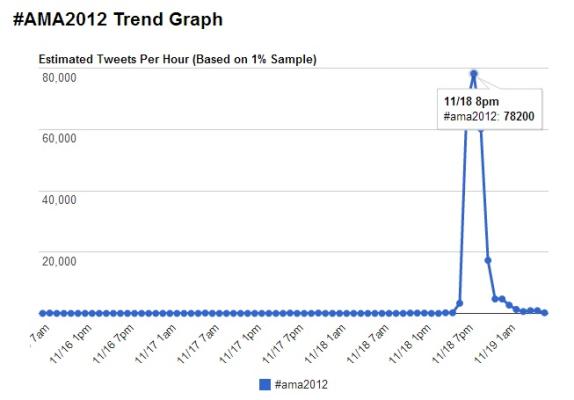 Courtesy of
Hashtags.org Analytics
The night also featured many top artists who performed live, such as Nicki Minaj with ?Freedom?, Usher (
@UsherRaymondIV
) with ?Numb?, ?Climax? and ?Can?t Stop Won?t Stop?, Justin Bieber with ?As Long As You Love Me?, ?Beauty and a Beat?, Pitbull (
@Pitbull
) with ?Don?t Stop the Party? and ?Feel This Moment?, P!nk (
@Pink
) with ?Try?, Carla Rae Jepsen with ?This Kiss? and ?Call Me Maybe?, Taylor Swift with ?I Knew You Were Trouble? and several others. The presenters included Ryan Seacrest (
@RyanSeacrest
), Heidi Klum (
@HeidiKlum
), Gloria Estefan (
@GloriaEstefan
), will.i.am (
@iamwill
), Cyndi Lauper (
@cyndilauper
), Randy Jackson (
@Yo_RandyJackson
)?and many other stars.