It's no secret that Pretty Little Liars (
#PLL
) fans are getting more and more anxious every week. With each episode's release, there seem to be more fans participating in using the #PLL hashtag. Perhaps this is because the show is getting closer and closer to something big. Each new episode is filled with more questions and less answers, leaving the fans on their toes and forcing them into discussion. Of course, this is exactly what the writers want. An attached audience makes for a great method of advertising. Social media is just the place for that. Discussions and predictions appear every night of the show.

Courtesy of
Hashtag Analytics
The number of related hashtags was pretty high compared to most other weeks. Of course the network wanted to take advantage of the benefits of social media and created a hashtag encouraging fans to discuss the show while it aired. Along with this were hashtags that prompted spoilers and new predictions. The theories that evolved were creative but scattered, showing that the show had plenty more truths-and lies-to tell.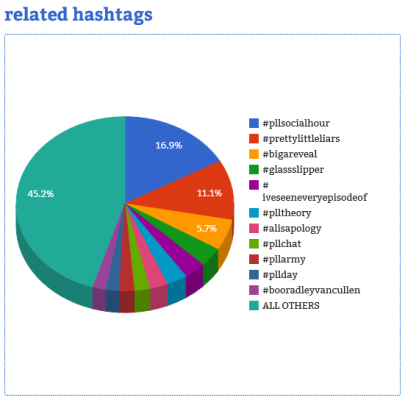 Courtesy of
Hashtag Analytics
The #PLLArmy of social media is always on top of #PLL each week. For an hour, they discuss, debate, and theorize all sorts of ideas about the show. All of these shared?speculations just make others more anxious to figure things out. Since season 1, this has drastically increased.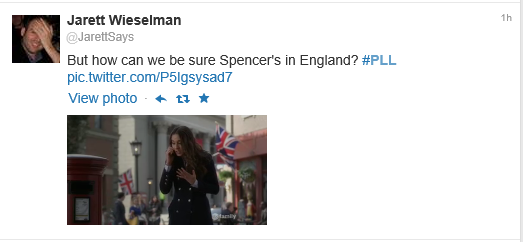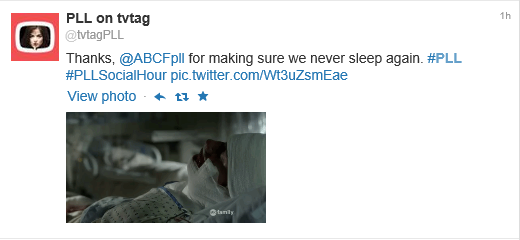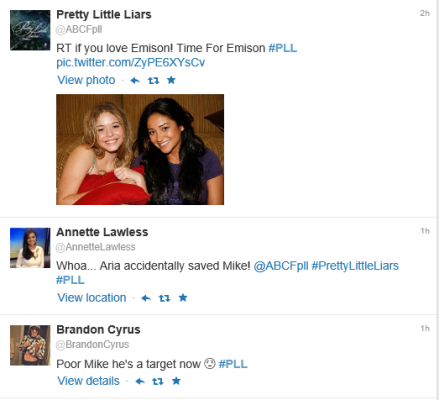 The?main actresses have become fan favorites across social media. Not only do many of them actively participate in the #PLL hype, but they also get personal with their fans. From engaging in discussions to answering (to an extent) many questions about the show, they only help build their fan base. Of course they are always watching alongside their fans and enjoy pointing out important plot moments.