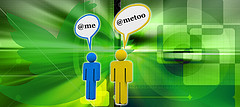 ??by?
?Kris Olin
?
Twitter
? is one of the most popular social networking and micro-blogging platforms that allow you to be updated and communicate with friends, colleagues, acquaintances, thought leaders, companies and organizations from all over the world. With a concise format that limits posts to below 140 characters, Twitter is a great way to stay informed. To participate, you must first create an account.
Creating An Account
Go to the
Twitter homepage
and locate the sign up box, which will lead you directly to the signup page. Enter your name, email address and preferred password, the click 'Sign Up'. Take note that you can tie only one email address to one Twitter account. A new page will come appear asking you to select a username. Your username is what you will use every time you post a message or engage with someone on Twitter. (Tip: choose a username that best describes you or your interests) When you have verified all the information you supplied, click 'Create My Account'. You might be asked to key in a security code to get through. Once you have your username in place, it's now time to go find and follow accounts that you find interesting, or let your friends with existing Twitter accounts know that you've joined the community.
About Your Username
- Your username is your identifier on the entire Twitter platform, so make it either descriptive or interesting. You may use either your real name or a code name, as with @IamMichaelJordan or @IamNumber23. - Your username will be the URL of your Twitter profile page. If your chosen username is taken, Twitter will suggest variations to the name, or ask you to choose another one. - You may change your username anytime via the Account Settings, as long as nobody else is using your new choice. - Usernames should be less than 15 characters. - The words 'admin' or 'twitter' are prohibited from usernames to avoid brand confusion. You're now on your way to getting the Twitter experience. Read about the
basic terms you need to know before getting started
with posting.