It's about time the United States received its annual blizzard. Every year, usually late in January or early February, the Northeast part of the country receives tremendous snowfalls. Combined with a strong wind current, and everything turns to a blizzard as trouble is stirred up for everyone. Flights get delayed, travel times increase, and sometimes people even get stuck inside their own homes. Now, these conditions have returned with the
#BlizzardOf2015
. For some, it is a time filled with fun winter activities in the snow. For others, it becomes a nightmare as the commute to work becomes an adventure and groceries need to be stocked for any sudden power outages or store closings.

Courtesy of
Hashtag Analytics
As the #BlizzardOf2015 hashtag rolled in, the snow continued to fall. People prepared for the worst based on the last few years of intense weather. Grocery stores were picked clean, gas was stored for snow throwers, and warm clothes were picked out for the cold. While #BlizzardOf2015 became quite a trending hashtag, there were not very many related Tweets other than other popular ones at the time. Instead, the hashtag was widely used by news organizations all over the area as well as people who were concerned or excited for the snow.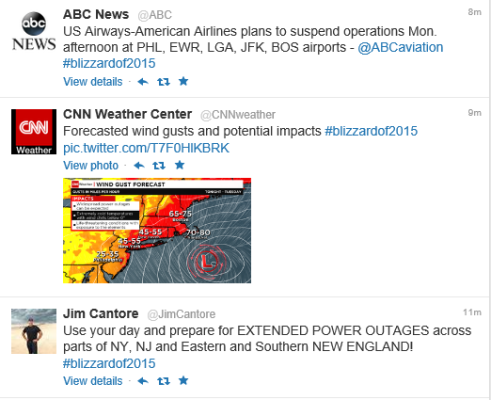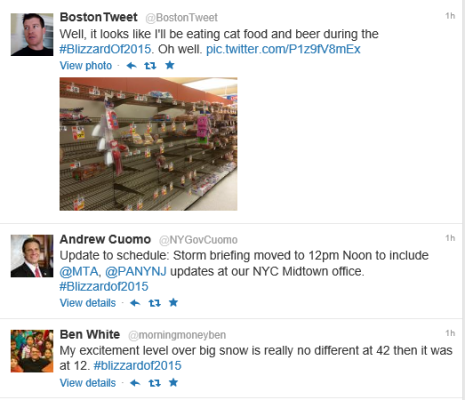 Politicians also took to social media to spread awareness of the storm and help the public find shelter or places of refuge if they were caught in the blizzard. Airlines closed down to avoid emergencies while power outages were already being predicted. Even with all this serious talk about preparing for the worst in the #BlizzardOf2015, some social media users were excited for the levels of snow that were predicted and had already touched down. Some were happy to be able to break out their snow tires on their vehicles and bikes to adventure into the snowy parks or to take a long hike through white blanketed trails. Regardless of level of excitement, social media helped spread the word about the?#BlizzardOf2015.