#GOP2012
and
#DNC2012
, both key parties' national conventions and campaign strategies generated hordes of support via Twitter, with tweets posted garnering hundreds of retweets every minute. How effective tweet-blasting actually is to sway favor toward a political win remains unquantified, however. Still, the fact that Twitter records 500 million users is a fact that cannot be ignored. The Republican Party, led by presidential candidate Mitt Romney, invested $120,000 on securing and promoting the hashtag
#RomneyRyan2012
. The Romney team is the first ever election campaign that spent money on its social media presence. And that's not all. The
#RomneyRyan2012
hashtag is just one of the several promoted trends on Twitter under the Republican National Committee, which also includes
#AreYouBetterOff
. That's another $120,000 investment. On the Democratic front, no purchase of a promoted hashtag has been reported to date, although it is notable that media observers had attributed a good chunk of Barack Obama's popularity to Twitter users during his first presidential bid in 2004 against John McCain. Nevertheless, it's nice to know how the #GOP2012 hashtag fares against the #DNC2012 on Twitter. We've run both hashtags independently on the the Hashtags.org analytics, which measures the exposure of a specific hashtag over time, and this is what we got.
#GOP2012 vs #DNC2012
Here's a graph of the #DNC2012 hashtag during the Democratic National Convention (September 4-6, 2012). Note that while it appears on the graph that its rival hashtag, #GOP2012, has zero activity, this is simply a visual effect of the scale as the actual GOP count is in the hundreds.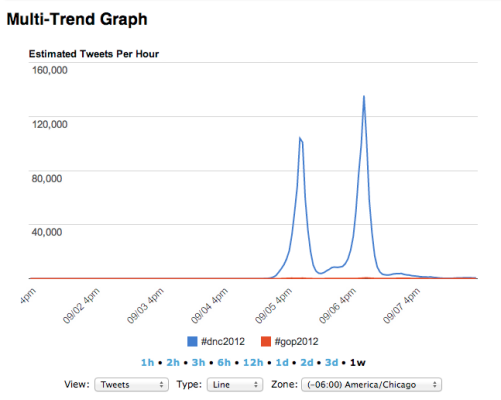 Meanwhile, here's a graph that reflects how the #GOP2012 hashtag fared when the Republican National Convention took place in August 27-30, 2012.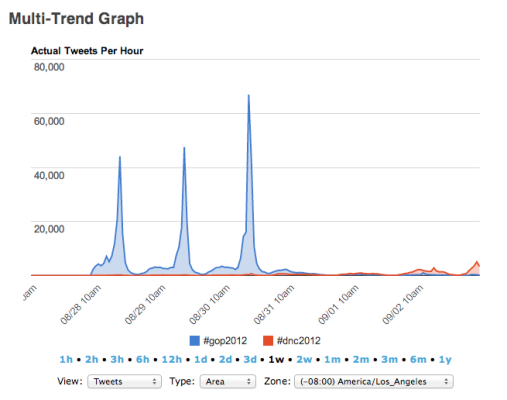 After all this hashtag buying and massive social media promotion, the situation begs the question: Does getting an election campaign into social media affect how voters think? Is it powerful enough to sway a vote? What are your thoughts on this matter? Let us know in the comments!