??by?
?Mastery of Maps
?
The people of Chicago recently showed unity in expressing their sentiments over the increasing crime rate in the city, leading the
#WhatIfChicago
hashtag to trend. Chicago residents used Twitter to increase awareness as gunshot-related deaths and violence seem to be growing by the hundreds over the past months. Twitter is the main social media platform used by the people for Chicago Ideas Week. Netizens are encourage to use #WhatIfChicago to post their concerns and ideas on how to possibly eliminate the related crimes and keep illegal guns away from unscrupulous and irresponsible individuals. According to Chicago Mayor Rahm Emanuel (
@RahmEmanuel
), the number of illegal guns in the city streets should be lowered significantly and one of the biggest goals of Chicago Ideas Week is to make the city a safer place for all people. The Twitter trend could be an effective approach because it gives residents of Chicago a chance to brainstorm various ways to get rid of gun violence and preventing the gun-related events that happened not just in Chicago but across the US in the previous months. Citizens can start sharing their ideas on Twitter using #WhatIfChicago. A panel of gun control experts will then review the tweets and will pick the best ones to discuss in a live debate on October 11 between 9 to 10:30 am. Here's the activity on hashtag, so far. Notice how it peaked on September 30, when it was announced.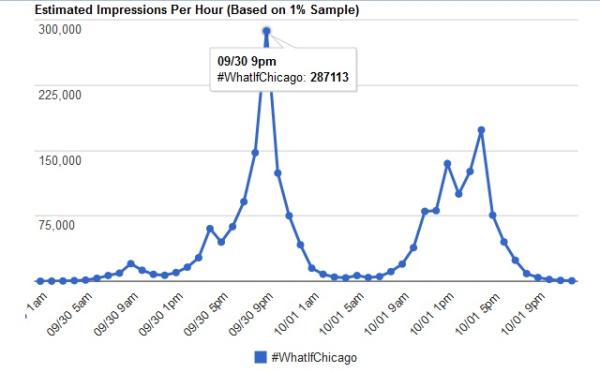 Courtesy of
Hashtags.org Analytics
Some of the notable individuals on the panel include Frank Main of The Chicago Sun-Times (
@chicagosuntimes
), Garry McCarthy of the Chicago Police Department, Annette Nance-Holt (
@cottiet
) of the Chicago Fire Department, Michael Skolnik (
@MichaelSkolnik
) of GlobalGrind.com and David Hemenway of Harvard School of Public Health. Chicago Ideas Week is geared toward becoming a huge platform for people to share ideas and make major improvements for the city. The actual CIW event will run from October 8 to 14 and will feature some of the best speakers to provide more inspiration for citizens and organizations on improving their community. More details on Chicago Ideas Week may be found
HERE
.