How Reputation Works
Reputation is a rough measurement of how much you contribute to the community and how much the community trusts your contributions. You can only gain reputation if you register for an account (there are benefits).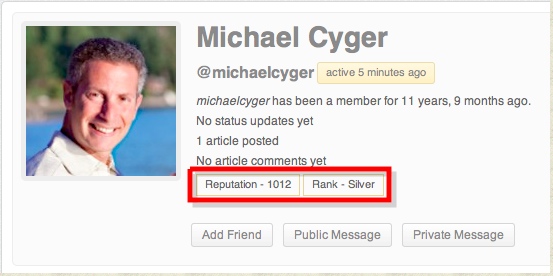 Reputation is earned through various activities. Basic use of the site, including signing in, commenting on articles, asking or answering questions in the discussion forum, and having your articles published are some of the ways to earn reputation. The more reputation you earn, the more privileges you gain on Hashtags.org.
Earning Reputation
2 Point – Sign into your account, daily
1 Point – Update your status
3 Points – Start a discussion
2 Points – Answer a question
1 Points – Complete a friend request
5 Points – Upload an avatar (picture of yourself)
1 Point – Send a message to a friend
2 Points – Comment on an article
2 Points – Comment on an blog post
20 Points – Post a blog
100 Points – Have one of your articles published
100 Points – Video interview or masterclass
A Few Words About Editorial Discretion
If an editor notices either constructive or destructive behavior in the community, s/he has the ability to add or remove points at will.
Rising in Rank
| | |
| --- | --- |
| 0-500 Points | Aluminum |
| 501-1,000 | Copper |
| 1,001-2,500 | Silver |
| 2,500-5,000 | Titanium |
| 5,000-10,000 | Gold |
| 10,001+ | Platinum |
Achieving Badges
When you do something consistently with very high quality, you may earn a badge. You will likely see them pop up on profiles of your friends or colleagues for doing the right thing.