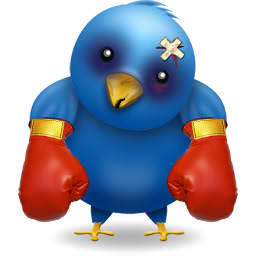 Twitter
is a huge social media platform where people can communicate and consume all kinds of information depending on their preference and objectives. Different companies, groups and individuals have become part of this micro-blogging community to take advantage of the vast network and communicate effectively with others. However, there are also others who exercise abusive behavior on the site, thereby distracting true users and intruding on the privacy of those who wish to avail of its many features. You can report misconduct with the following.
Investigating Abusive Behavior
While users have the liberty to post whatever they want, there are many tweets that actually tend to attack or insult others, although these are tolerated to some degree for the sake of humor or discussion. Users should read the
Twitter rules and guidelines
?on abusive behavior first so that they can avoid being blocked or banned. Twitter will initially investigate and know more about abusive behaviors on the website based on reports forwarded by offended users and parties. Other offenses that might be committed include breach of privacy and making violent threats to another user. Twitter will get in touch with the person, account user or a representative to get all the necessary details before making the necessary steps. Twitter will not cater to reports from parties unless they are direct victims of the abusive conduct online. Third parties should instead advise victims to report the incident to Twitter personally.
Filing a Report
Submitting a report
?regarding abusive behavior and other violations will require your Twitter username, a complete description of the incident or issue and direct links to the tweets that have to be reviewed by Twitter. There are policy pages on Twitter that will provide you quick steps on how to send a support ticket request.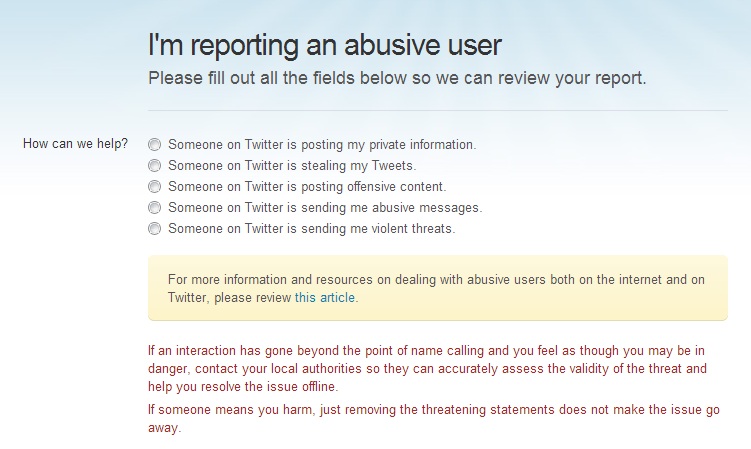 If You?re the Offended Party
A person who has been the victim of abusive behavior, violent threats and other forms of misconduct on Twitter can report the incident to the website or get in touch with
law enforcement groups
?to have the incident checked and investigated. Threats can be assessed so that the proper charges can be filed against the offenders. Inform the company about abusive tweets or messages by sending a report to Twitter. Twitter will review the incident and should the user be found guilty of the reported offenses, the account can be permanently suspended by the website.
IP Block
Some might wonder why Twitter cannot block users from creating new accounts. According to the company, blocking the IP is not a very useful solution in preventing abusive behavior. At some point, blocking might even keep other users who did not commit the offense from using the social media site. IP addresses are also shared by several users depending on the location. Thus, should one party commit an offense and the IP is blocked, it would be unfair to keep others from availing of the benefits of the social media site.