??by?
?
Gianna Borgnine
?
Social media networks have been trying to encourage more users to check in and indicate their location, with the goal to create more targeted and relevant services and recommendations.
However, there are many factors that tend to keep people at bay when it comes to disclosing their position, such as security risks and lack of information and interaction upon doing so.
A number of websites have increased the number to a certain extent but Twitter is taking more steps to actually bring in more users to try location and search features.
Twitter Strategies
Twitter is trying to target specific users by sharing information about events and other happenings in nearby places. Online users can refer to a mini box at the left, which contains trending topics and let them discover a number of hashtags and tweets related to the event.
Compared to simply sharing their location and enhancing search capabilities, online users can actually discover related events that trigger their interests and be part community activities.
This is what it looks like.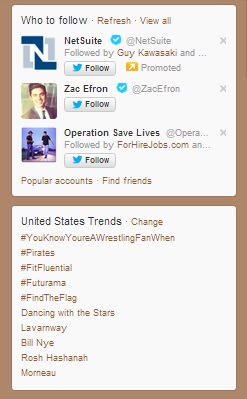 Twitter is a viable social media platform when it comes to search and location because of its mobility. Over 60 percent of Twitter users access the platform using mobile devices any time of the day.
According to studies, topics are generally specific as to location -- and most of the responses also come from Twitter users within the same area. The power of hashtags can then be tapped to target users according to location.
Benefits for Companies and Marketers
Nationwide campaigns are basic among companies and social media marketers. However, location marketing strategies will also be very useful in drawing more people to particular events.
Sponsors and marketers can focus on campaigns and advertisements that cater to the needs and demands of users within a certain area. They can make their approaches more specific based on the existing trend and demographic.
Local Twitter hashtags are the most convenient and effective marketing solutions for local marketing approaches. These can lead to communities consisting of relevant followers who can help spread brand awareness and bring in more loyal customers.
For example, the Greenwich business community started the hashtag #GreenwichBiz to gather all related tweets on the local scene in one place -- to create a nifty reference and start-off point for anybody looking to do business locally.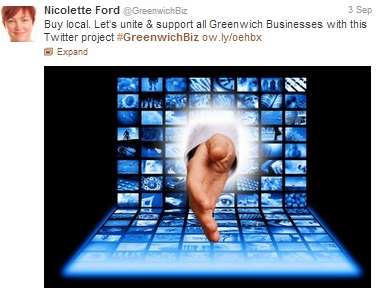 So far, the hashtag project has gained 579 tweets and made over 578,000 impressions.
When creating hashtags for local events and users, companies assure that they attend to the actual needs and consider the current circumstances of the place.
Tips When Using Hashtags
Start by checking if there are other related hashtags on the local subject matter. If there are none, then define the hashtag so you establish its goal and make it easier for others to follow.
Follow some of the most relevant ones then come up with a hashtag, using words that are easy to understand and increase the interest of the target market. Research on good content then share information regularly. Keep the posts fresh and interesting, offering solutions and responding to queries and other concerns. Also adjust your profile to meet the requirements of local users.
You can also engage in other social media networks and use the same hashtags. Observe how people in specific areas respond. Keep the conversations within topic and provide unique information about the activity or local event.
Observe how the trend changes over the next several hours or days then compare the local hashtag campaign after each event. In the case of #GreenwichBiz, we can see below that it has managed to get 221,300 impressions in its first 24 hours.
Make the necessary adjustments with each location-based campaign and see how many more followers you gain in the process.