??by?
?Tom Lohdan
?
Would you like to see what goes on in the White House in real time? Since the US presidential campaigns in August 2012, Barack Obama has been actively participating in social media to address supporters and increase his following and popularity. Recently, the White House announced the launch of a Pinterest account. Obama actually already has an existing account on the social media website which was mainly used for his reelection campaign. The new White House account will provide information and pictures from within its walls. You can check out what goes on in the country's most famous house through the account
WhiteHouse44
. The first pinboard is set to be featured on December 17.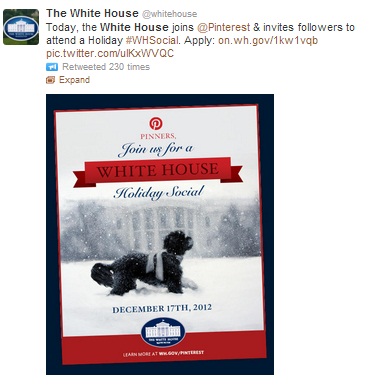 Obama is fond of social media networks. He has existing accounts in other popular sites as well like Twitter (
@BarackObama
), Facebook, Google+, YouTube, Tumblr and Instagram. In fact, he was very active on Twitter during his latest presidential campaign and constantly tweets about his plans and recent issues and events. The US president holds the current record for posting the most popular tweet ever. His tweet right after he was reelected for the presidency was retweeted 800,000 times. Barack?s wife, Michelle (
@MichelleObama
), has also admitted being a social media fan. She shared in a blog post regarding the upcoming White House Pinterest account, ?It?s the People?s House?. The Obamas said that they wanted Americans to feel welcome and witness history. Their intention is to open the White House to as many individuals as possible, although virtually. The White House also has existing accounts in other social networking sites like Twitter (
@WhiteHouse
), Facebook, Google+, Foursquare, Digg, LinkedIn, YouTube and iTunes among others.