Twitter
to encourage the population to vote. A Twitter party was launched to target social media enthusiasts to hopefully let them cast their votes in the very evenly matched US national elections. The move will especially be helpful in California wherein 25 percent of voters are Latino. The election is set on November 6 with about 4 million Latinos casting their votes. This is a 32 percent rise compared to the presidential elections in 1998. Several familiar stars will be present present during the Twitter party, including America Ferrera (
@AmericaFerrera
), Carlos Santos (
@CarlosSantos
), Taboo of the Black Eyed Peas (
@TabBep
), Rosario Dawson (
@rosariodawson
) and Wilmer Valderrama (
@WValderrama
). Other groups involved in the activity include Project Vote, Bus Federation, Fox News Latino (
@foxnewslatino
), Serve 60 (
@SERVE60
), Latino Rebels (
@latinorebels
), NALEO (
@NALEO
), NAACP (
@NAACP
) and a whole lot more. These celebrities and groups will talk about their own views in the presidential race and helped answer questions from fans and other concerned citizens. Voto Latino (
@votolatino
)?sponsored the event with the hashtag
#iVoteBecause
. Voters will also be given information, such as the process of voting, voting requirements overseas and things to bring when going to the polls. Here's how the activity on#iVoteBecause is faring on Twitter so far. The graph shows that the hashtag peaked at 8:00PM November 5, 2012.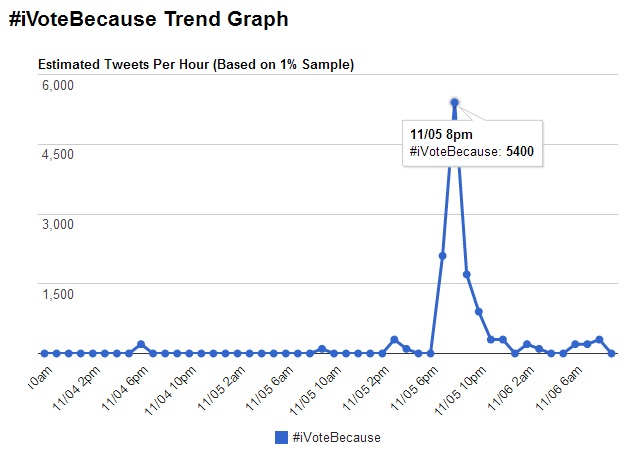 Courtesy of
Hashtags.org Analytics
Adrian Garcia (
@SheriffGarcia
), chief of staff of the group explained that they are aiming to make people more aware of the major events and to stay prepared with the help of star power. He said: ?When you start getting these tweets from (celebrities)... it?s a great way to really captivate an audience through an interesting platform.? Voters are invited to share the reasons why they have to vote on November 6 and also encouraged to share information through social media and let others know about the need to vote. A lot of Twitter users have already started posting questions to be answered by the celebrities. NALEO indicated how important #iVoteBecause is because several states in America have a lot of Latino voters such as Colorado, Nevada and Florida. These people should be given primary importance because they are essential in affirming the reliability of the ballots and choice of the nation. Garcia added: ?If either candidate fails to fully engage Latino, eligible Latino voters in those states, they will not be able to win.?