??by?
?Obadah Yaghi
?
Twitter may be one of the most open and free platforms where anybody can say anything, but when you post lies and forgeries, you can certainly expect to be booted out. But what really draws the line between censorship and regulation? In India, the definitions appear to be problematic. Early in August 2012, doctored images and videos were circulated to Twitter and other social media users in India falsely depicting atrocities against Muslims in Assam and Myanmar. The photos disseminated were those of people who died from natural disasters, but passed off as victims of ethnic violence. The incident led to massive unrest, with at least 300,000 fleeing Assam. As a result, as a form of damage control, the Indian government ordered Facebook, Google and others to
block 310 web pages
?saying that they provoke communal hatred and fanning tensions in the Northeast. The problem was, the order resulted in various user experiences all pointing to the inability to access accounts, whether or not they were involved in the incident. The hashtag
#Emergency2012
trended in India as a result, with users crying government censorship. The hashtag
#GOIBlocks
was also used alongside #Emergency2012 to emphasize disdain. Here's what some Twitter users had to say.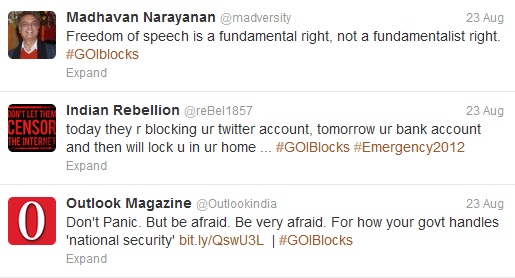 In January 2012, Twitter had agreed to block content in a country but make it available elsewhere in the world should a government ban require it, for a host of reasons. It also noted that "if and when we are required to withhold a tweet in a specific country, we will attempt to let the user know, and we will clearly mark when the content has been withheld." "This isn't about political censorship. This is about the government not knowing how to do online regulation properly," said Center for Internet and Society programme manager Pranesh Prakash (
@Pranesh_Prakash
). What are your thoughts on this issue? Do you think the Indian government is leaning toward massive censorship, or it a case of unmanaged regulatory actions, as Prakash said? Tell us in the comments!