Publishers and Marketers regularly use social media to perform a variety of contests, which allows for direct consumer interaction, voting, and feedback.

The popular Fox show, So You Think You Can Dance, uses the Twitter platform to allow fans to vote for, and save, their favorite performers who are in jeopardy of being eliminated from the show. This is done by having viewers tweet a specific hashtag corresponding to the performer in which they wish to save.
Our analytics service is the perfect utility, in these types of "events", to track and determine, in real-time, how voting is progressing, as well as determining a winner. In fact, this is one of the primary use cases outlined in our "How To" video.

In an effort to compare and predict the results of fan voting for the most recent show aired on August 3rd, 2015, we began tracking all contestant hashtags prior to the beginning of the show for both #TeamStreet and #TeamStage, since one contestant from each "team" can be saved by the Twitter fan vote (see rules). The show is aired live, Monday's, starting 8PM/7PM Central, fan voting begins near the end of the show, and is open during just a 5 minute window.
On the show, a bit to our surprise, it was announced that the winners of the Twitter save were JJ (#SaveJJ), from Team Street (#TeamStreet), and Derek (#SaveDerek), from Team Stage (#TeamStage). Let's take a look at our real time analytics during the 8PM (Central) hour for the applicable "save" hashtags being tweeted, the first chart, below, being for Team Street: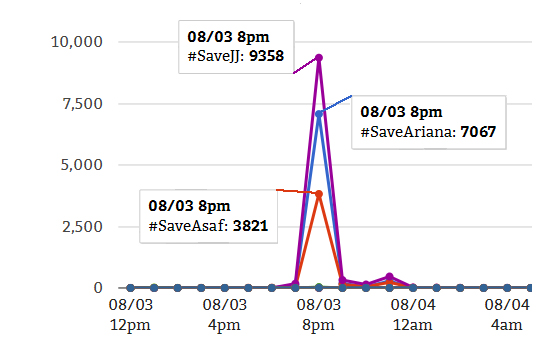 As you can see from the chart above, #SaveJJ was indeed the highest volume tag tweeted during the window, for Team Street, winning by a margin of over 2K tweets, and this does indeed reconcile with the Team Street save announced by the show's host, Cat Deeley.
Let's now take a look at the Team Stage chart below: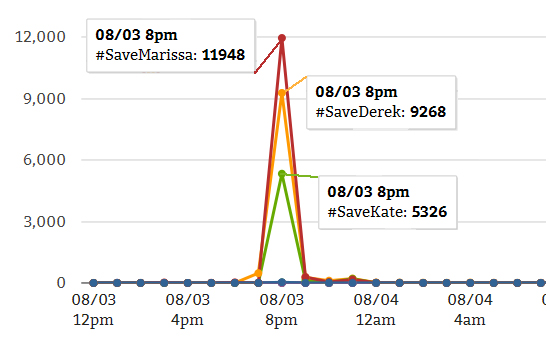 According to our analytics #SaveMarissa outnumbered #SaveDerek by over 2.5K tweets, a larger margin than even the Team Street vote. Interesting. So why the discrepancy and the announcement that #SaveDerek won the Twitter save, which ultimately resulted in Marissa going home? Best we can estimate is that, our analytic charts presented above, are tallies for the entire hour, and that #SaveDerek outpaced #SaveMarissa within the 5 minute window allowed for voting.
Moral of the story, if voting to save your favorite dancer, be sure to do so within the time-period allotted, else risk having your vote not count! We'll be keeping our eye on this during each weekly show, when a Twitter save is in play, and report our findings accordingly.