This week has not shown much uniqueness in regards to hashtags. Though it has only just begun, the only hashtags that are trending this week?can give?thanks to the constant pushes from fans of young boy bands.?Hashtags about gaining followers and fans are always trending, and their usage usually increases when there aren't many severely trending hashtags out there.
#TeamFollowBack
is one of those that retained a decent Tweet rate throughout the day.?This was mostly because it was associated with many of the other hashtags that are related to it that also gain?popularity.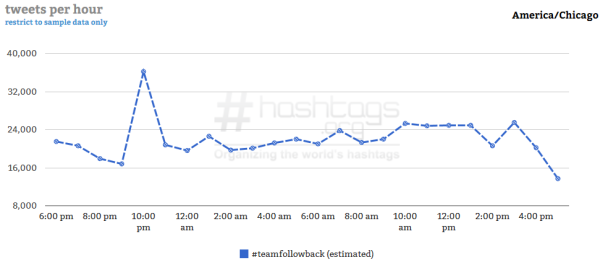 Courtesy of
Hashtag Analytics
The graph displays very consistent Tweet rate for the hashtag #TeamFollowBack. Of course, this is pretty typical for these kinds of hashtags. The highest rate was slightly high though thanks to the lack of other popular hashtags being passed around. As seen in the chart below, there were plenty of other related hashtags that were often tagged in the same Tweets. These show just how many different kind of "follow back" Tweets there are.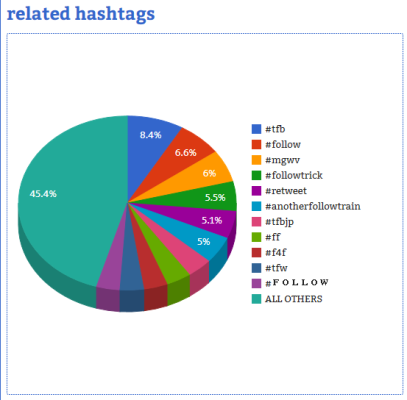 Courtesy of
Hashtag Analytics
This tradition on Twitter is known by most people because it is found in Tweets alongside many other hashtags. It is often used simply as a way to gain some new followers. Why anybody would want random strangers to follow their social media updates is up to them. Some people like to use it to get their name out there or to share some news.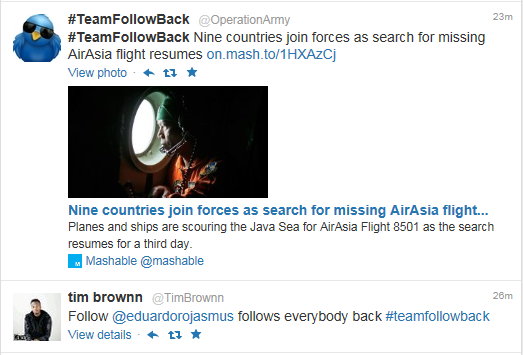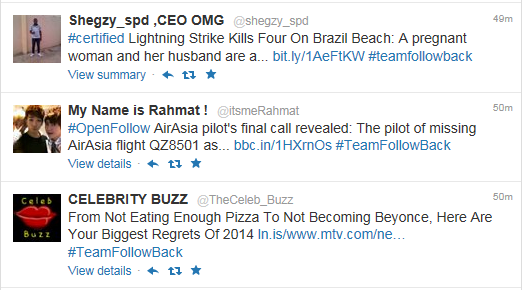 Regardless of people's reasoning behind using #TeamFollowBack, the hashtag still remains one of the most common trends. Expect to see it quite often as it is one of those that stands out from the rest as it is not abbreviated and is straight-forward in definition. Whether simply to draw attention to a certain topic or to gain new friends, #TeamFollowBack doesn't seem to diminish in Tweet rate over time.