??by?
?FindYourSearch
?
Twitter
has provided a number of options for individuals to keep in touch with friends and family especially those using the website for the first time. But just as you want to be found by friends on the Twitterverse, you also want to NOT be found by those you don't know or have malicious intentions. Further, if a family member or a friend has died, getting his or her old Twitter account out of the radar will help maintain privacy and safety. Deactivating a deceased user's account will help protect your own account from being discovered by people or groups that you might wish to steer clear of.
About 'People You May Know' Suggestions
When browsing and using Twitter, you will notice the 'People You May Know' feature, which lists people you might want to follow based on several levels of affiliation. These are suggestions to certain individuals that you might like to get in touch with or most likely wish to follow such as family, friends and colleagues. The suggestions are based on existing relationships you already have with these individuals and other pertinent data online, such as email addresses, social network information and other details. The recommendations are based on an algorithm so you might initially be surprised at how the website knows which persons are in your network. Throughout Twitter, you will find 'People You May Know' suggestions in different places. The most common include the 'Find Friends' portion below the '
Discover
' tab.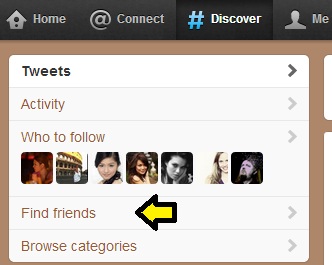 Email notifications will also let you know if there are certain individuals that you might like to add to you list. You can manage the emails in the notifications settings. There are also many other parts and places on Twitter where you will encounter the suggestions so feel free to add more people as you wish.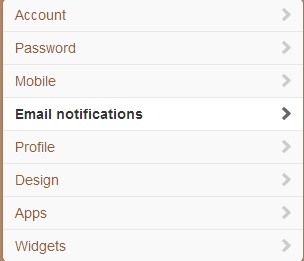 More About the Find Friends Page
If you wish to stop Twitter from making 'People You May Know' suggestions based on the contacts you?ve brought into the website from the 'Find friends' page, you can deactivate the action. Whenever you bring in related contacts using the Find Friends section below the Discover tab, the names of the persons will automatically be visible in the 'People You May Know' section. In addition, other individuals who bring in their respective contacts, as well as your email address in their respective address list, will automatically let you see these as a suggestion. You can keep people from easily finding you on 'Find Friends'. You can remove your account so that it does not easily get discovered through your email address. You can also remove contacts that have been imported before. There are also options that allow you to unsubscribe from suggestion emails. Do this by clicking the ?Unsubscribe? link at the bottom of the email. You can also do the same using the email notification settings.
Using Twitter for Deceased Individuals
If a Twitter user dies, the company can work with a family member or friend of the deceased who has been authorized to function on behalf of the estate. The account of the dead person can be deactivated as a result. To successfully deactivate the account, Twitter will need a few details, such as the username of the Twitter user, a copy of the death certificate of the deceased user, a copy of the authorized person?s government-issued ID, a signed and notarized statement which includes personal information about the authorized person. Information included will be his or her first and last name, email address, current contact details, relationship with the deceased, requested action and a link to the online obituary. You can also provide a copy of the actual obituary from a newspaper. These details should be forwarded to: Twitter, Inc. c/o: Trust & Safety, 1355 Market St., Suite 900, San Francisco, CA 94103. Fax number is 1-415-222-9958. All communication will be done through email. You will also be contacted by Twitter through your email address. Further concerns can be forwarded to privacy@twitter.com.