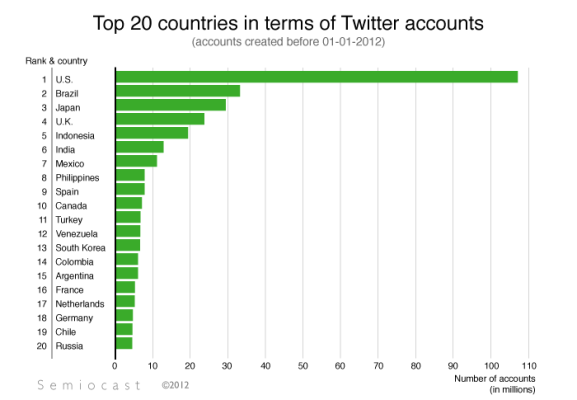 It may be unofficial, but data showing that Twitter has surpassed the 500 million mark for registered users in June 2012 is certainly frontline newsworthy. According to
Semiocast
, a French analyst group that tracks social media activity,
Twitter
is now second to Facebook as the largest social media network in the world. And this number is going higher by the day. In June, the number of accounts reached 500 million. In July, this grew dramatically to 517 million. Talk about
massive jumps
!
The Top 10 In Terms Of Account Volume
Semiocast says the highest volume of micro-bloggers still is the US, with around 141.8 million tweeters, followed by Brazil, with over 44 million. The cities with the highest number of Twitter users are, ironically, not in the US, however, with Jakarta taking the lead, followed by Tokyo and London. Other members of the top ten are India, Mexico, the Philippines, Spain and Canada. The results were based on analysis done on 383 million of Twitter user profiles created before January 1, 2012. Semiocast used its proprietary platform, databases and tools to process user profiles to determine the location of each user based on free-form location declared in the user profile, language used to post tweets, GPS coordinates for some areas and time zone.
The Most Active Users
On another note
, Twitter?itself was quick to say that the numbers may not be representative of the actual active accounts. Active accounts are those will log-ins of at least once a month. In fact, the company hasn't released any official numbers since September 2011, but had been telling the public that, back then, it had 100 million active users. Semiocast says the Netherlands has the most active users, posting at least one public message between September 1 to November 30, 2011, or accounting for 33 percent of total active Twitter users. Japan follows with 30 percent, Spain with 29 percent, while Indonesia, Venezuela and Canada are tied with 28 percent. [Photo Source:
SemioCast
]