??by?
?Guillaume Paumier
?
Twitter has always been creative especially on how it can transform initially negative things into the exact opposite. The same applies with the recent hashtag
#SignsYoSonIsGay
. At first, the hashtag was created as an avenue where online users can post anti-gay tweets. However, Twitter has immediately taken over the hashtag and it is now trending well with positive messages. More people immediately posted their own statements, reversing homophobia and placing the situation in a positive light. Many who tweeted are actually parents of gay children. Some of the posts are serious while others evoke more humor or sarcasm. Regardless, it was a win for the supporters of the gay community who managed to turn what would have been a discriminatory hashtag into a celebration of individuality. Hijacking may have had a negative connotation in the past, but this move is a good sign that Twitter is generally concerned about the well-being of users compared to the application on Android named ?Is My Son Gay?? The positive phenomenon was also cited by
Gawker
and
Buzzfeed
, which also shared inspirational tweets. Here's how much #SignsYoSonIsGay trended on the micro-blogging site.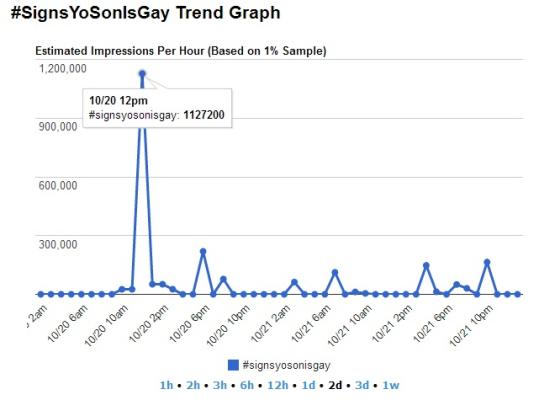 Courtesy of
Hashtags.org Analytics
Some of the funny and great tweets are below: