??by?
?methodshop.com
?
It's
#cybermonday
and, boy, do we have interesting consumer news that will have your company all a-Twitter. With 70 per cent of consumers bound to check
Twitter
for reviews before they make any purchases for the holidays, marketers should be in a flurry bringing their products that much needed exposure in the micro-blogging community. In fact, a recent study says that even with December coming about a month away, there is no better time to expose your wares as now -- or even so, yesterday. An
#infographic
showing consumers' buying behavior and how Twitter figures in the equation reveals that majority (51 percent) of Christmas shoppers in the US will be starting their shopping sprees in November. If your company had begun showing off on people's timelines since October, then you may already made pretty nice sales, what with 29 percent of would-be buyers beginning their shopping even before October. Twitter is not just THE place to get information on various potential gift items for the holidays, it also appears to be a major decision turner when it comes to what people will eventually buy. Forty percent of shoppers who are social media savvy will look to their timelines to engage directly with service providers and companies to inquire about certain products. A whopping 70 percent will also be scouring the net for user reviews. Some of the companies that have already begun their Christmas holiday marketing campaigns include
#amazon
(
@Amazon
),
#goldbox
(
@amazondeals
),
#zazzle
(
@zazzle
),
#ebay
(
@eBay
) and
#etsy
(
@Etsy
). Or you can simply type in
#christmas
and you'll be led to a list of firms worldwide offering various special deals for the season. To give you an idea, here's how popular the hashtag #christmas is to date.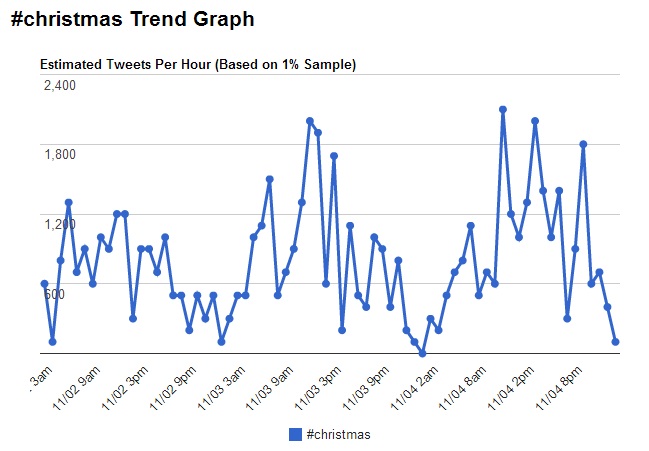 Courtesy of
Hashtags.org Analytics
Here's the full deal on the infographic. It's still early November so there's a lot of time to catch up and get your brand noticed!