They're ubiquitous. We see them in use, week in and week out, across all social media platforms, whether you necessarily know what they stand for or not. Yes, we're talking about the hashtags #wcw (Woman Crush Wednesday), #tbt (Throwback Thursday), and #ff (Follow Friday).
But, which of these social media juggernauts takes home the title of "most popular" weekly hashtag used by volume? We set out to determine just that by running a long-term, month long analysis of each tag, and the results were surprising (at least to us).
As expected, on their respective days, the particular tag associated with that day exceeds the usage of the other two in this comparison. As you can see in the graph below, while #wcw places a distant third in total volume, the competition between #tbt (blue line) and #ff (yellow line) is VERY close, but ultimately there can only be one undisputed champion.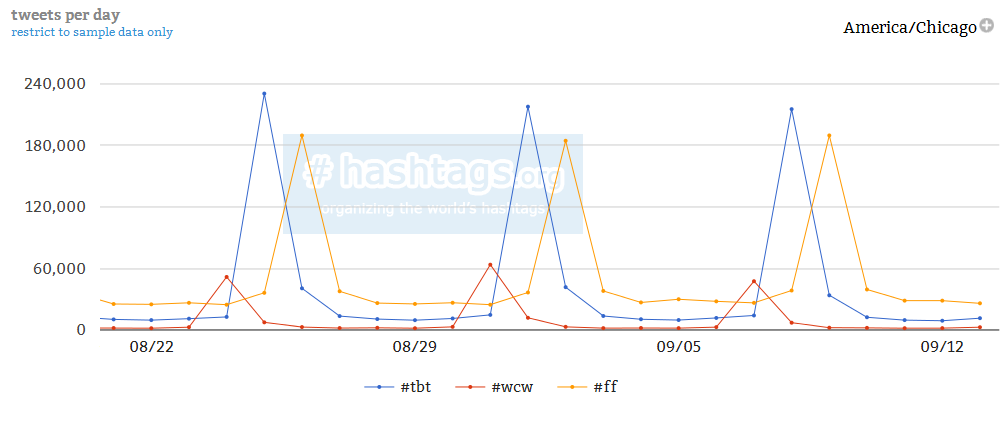 And the winner is...#tbt (Throwback Thursday)!
Throwback Thursday consistently obtains the highest usage of the three tags on its respective day and in total volume throughout the week. Given the number of people on social media looking to increase their follower count, we here at Hashtags.org, at the onset of setting up this analytics campaign, expected "Follow Friday" (#ff) to take home the coveted title, since, as we all know, many people will even, irrelevantly, append popular tags to their tweets just to gain exposure (bad etiqutte).
Given this, let's take a look at projected "impressions" (exposure) versus absolute tweet volume shown above. By "impressions" we mean, how many followers does each user who tweeted a tag have, and then collectively summing this number up, discounted by a factor estimated for inactive users who may not have viewed the tweet, resulting in an estimated "impressions" level / views / exposure: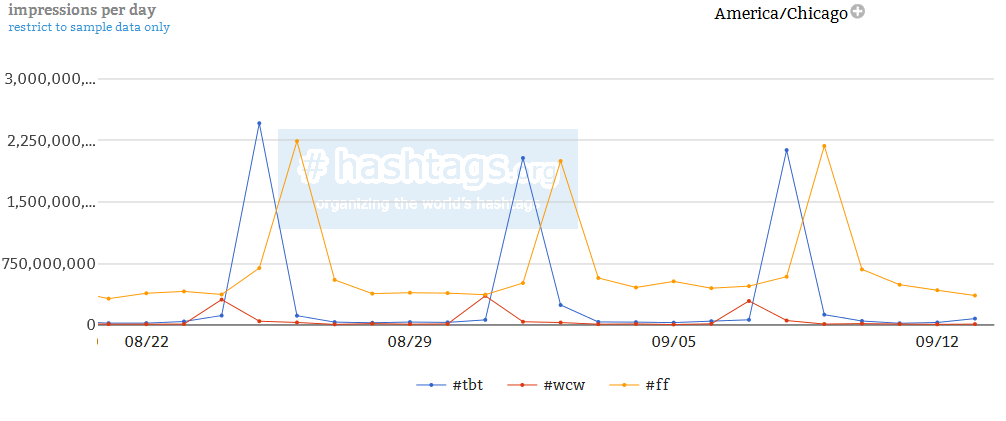 As we can see, #ff makes a valiant effort, when taking into consideration follower count and thus estimated impression level, even outpacing #tbt in the last cycle, but collectivley, #tbt still reigns supreme as THE weekly hashtag to beat.
Interestingly, in an never-ending desire by most to increase their follower account, there is one common thread across all three of these hastags that revealed itself when looking at related hashtags for each tag individually. By related we mean, when a tag is used, what other tags within the same post are also used. As we can in the chart below for all three tags, #follow is the only common related tag present across all three of our tags analyzed: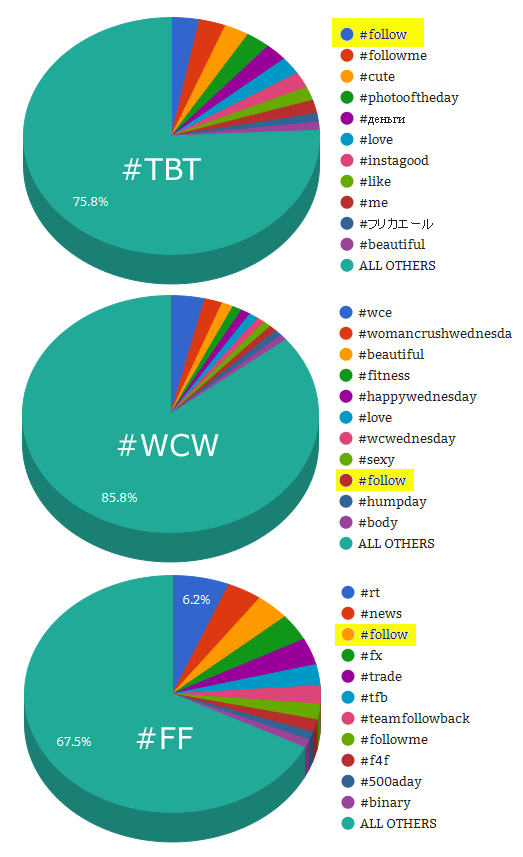 This interesting trend would appear to indicate that astute social media users tend to create posts with popular tags of the day, while also including the #follow tag in the hopes of expanding their follower base. When it comes to trying to increase one's audience, the #struggle is real!
Having said that, it's great to know that social media users have a heart, and love to wax and wane nostalgically, by sharing their favorite photos and thoughts of days gone by! One day we may look back on this article with similar affection, sharing again with our beloved audience...most certainly on a Thursday (#tbt)!