As with?almost every?tragedy nowadays, social media seems to play the role of the innocent bystander who desperately wants to help. This can be a good thing, however, when it comes to donations sought by charities after tragedies such as large storms or natural disasters. Social media can easily donate to those causes thanks to the internet, but when it comes to something other than monetarily-mended emergencies, social media can do nothing but stand by. There is still one thing they can do: unite and follow a similar cause. That's exactly how
#PrayForSydney
came about.

Courtesy of
Hashtag Analytics
The graph above shows just how quick social media was to respond to the dangerous situation. The situation ended around 8AM Central Standard Time after a climactic police storm into the caf? where the shooter held a few hostages. Immediately upon the police rush, the hostages were caught on camera running out the door. The hashtag still lingered on, however, as social media still called for prayers for the victims of the situation.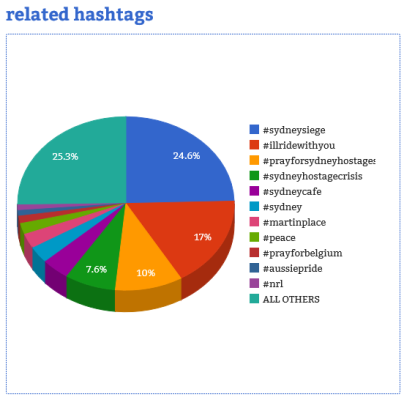 Courtesy of
Hashtag Analytics
There were plenty of other hashtags similar to #PrayForSydney. These came out at the time the media was reporting the news and all involved people hoping for nobody to get hurt. Not only did people wish for the best out of the situation, but other hashtags such as #Peace and #PrayForBelgium asked that people pray for more than just a happy ending to this single event.



Getting closer and closer to Christmas seems to bring out a peaceful desire for people all over the world as they celebrate. Fortunately, the hostages managed to make it out alive as police made their rush inside. Unfortunately, there were two total deaths confirmed. Still, social media was not let down to know their call for others to #PrayForSydney was not wasted and perhaps they did the families of those victims a favor by letting them know they care.