There's nothing better than a Chicago deep dish pizza?layered with?giardiniera, pepperoni, and?drenched in melted cheese?after a long?Monday to get the week started. With hundreds of styles inspired by the many various cultures of the states, it's no wonder social media doesn't hesitate to celebrate a
#NationalPizzaDay
. From flatbreads to the deepest of deep dishes, Twitter was filled with images of decadent circular meals topped with all sorts of ingredients. One of America's favorite foods definitely deserved to be recognized, and recognized it was as the hashtag generated tens of thousands of uses throughout the day.

Courtesy of
Hashtag Analytics
While the rest of social media was still ranting about the #GRAMMYs, hunger people were busy celebrating #NationalPizzaDay. Some were combining the two events which created some oddly related hashtags that weren't quite so relevant to the day. Of course, the important thing wasn't what hashtags complimented #NationalPizzaDay, but rather what ingredients would compliment the pizzas. From vegan to an all carnivorous feast, there were ideas shared about where to get the best pizzas as well as new recipes to create your own.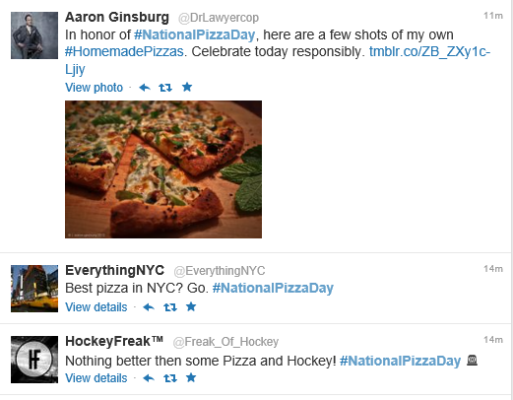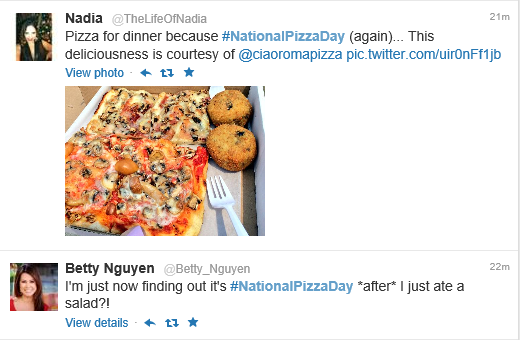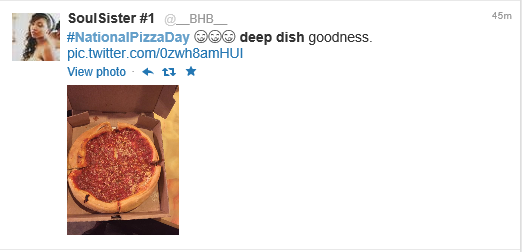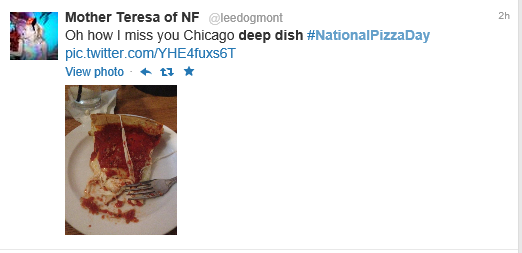 If you forgot to celebrate yesterday, it's not too late. There's always a great restaurant willing to whip up a fresh pizza to those in need. In many opinions, every day is #NationalPizzaDay. This glorious historic piece of heaven has inspired so many people around the world that it deserves it's own
month
. Not only is it entirely customizable, but there is a style that will suit everyone's needs. The one thing you need to know about this trend is that pizza is always a great topic. It's possibly the only National food day that beats National Cookie Day. Take social media's word for it. There's always time for pizza,
one of
America's favorite comfort foods.