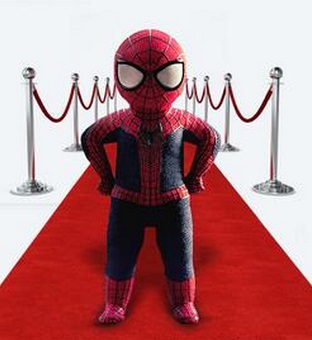 The Evian campaign, ?Amazing Baby & Me 2? was widely successful, prompting the release of the second phase, which featured the web-slinging superhero Spider-Man. The approach helps people get through their daily challenges by providing personalized responses from its ?Amazing Baby?.
The first phase of the campaign showed Spider-Man discovering his own inner-child ? the Amazing Baby. The Evian campaign was primarily intended to encourage people to bring out their inner-child and have a fun and fresh look at life.
Previous campaigns featured a variety of random individuals looking into a mirror by the street then seeing their much-younger selves and dancing to a lively tune.
The brand?s official Twitter account @evianwater invited social media users to share their daily predicaments and situations via the hashtag #AmazingBabyRescueMe.
The water company replied to posts in a unique and creative way. Solutions were given through funny tweets, images of Amazing Baby characters and Vine videos.?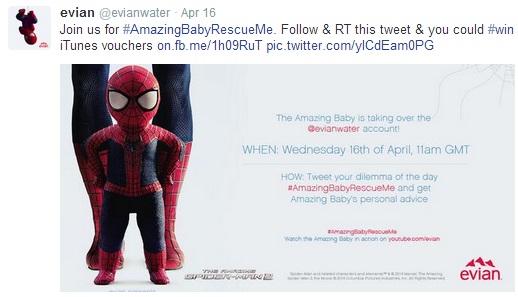 Other involved social media networks include Facebook and Pinterest. Fans on Facebook are requested to help come up with solutions and take on the role of the Amazing Baby. According to Deola Laniyan, Evian?s senior account director of We Are Social, people will regularly use Twitter and Facebook to talk about new movie releases. The Spider-Man concept is a creative way to increase user engagement and associate the brand more with the popular movie.
Evian global digital manager Laurence Foucher said that they wanted to boost ?The Amazing Baby and Me 2? by asking people to respond instead of simply watching the much-anticipated film release of ?The Amazing Spider-Man 2?.
Brands use social media to take advantage of the popularity of huge events and activities such as concerts, sports events and film releases to captivate the target audience better and encourage added engagement. The campaign is expected to yield very good results for Evian as well as for fans who encounter predicaments in their daily lives.?
#AmazingBabyRescueMe hit over 1.7 million impressions at its peak. It generated more than 5.4 million impressions as of this writing.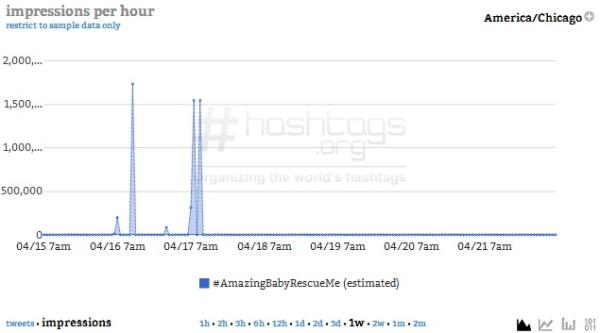 Courtesy of
Hashtags.org Analytics