#RejectedIceCream
was created in light of Ben & Jerry?s 36th anniversary in the ice cream business. The company first introduced its delectable flavors in 1978 and is now one of the most recognized brands in the planet. Twitter user
@midnight
initiated the hashag contest to look for the most unique and funniest ice cream flavor, as he promotes the TV show ?The Ultimate Warrior? on Comedy Central. The hashtag creator tweeted, ?It?s almost time for @midnight on the EAST COAST so tonight?s Hashtag War is #RejectedIceCream! Play now & while u watch the show!? Some users even managed to present their Photoshop skills by coming up with tub covers. Some of the most notable suggestions include ?Heisen-Brrrr-g Crunch? and ?Robitussin Ripple? with its colorful and attractive covers. Ben & Jerry?s had to release an official statement, denying that these are included in its list of flavor. Ben & Jerry?s is known for coming up with interesting names to describe their special creations. Barry White?s Heisen-Brrrr-g Crunch included a description saying that it includes vanilla ice cream with black licorice, hats and blueberry pop rocks. Another photo showed the ?Lt. Dan?s Ice Cream? featuring the famous characters in the film ?Forrest Gump?. The hashtag went over 38,000 tweets in a week's time.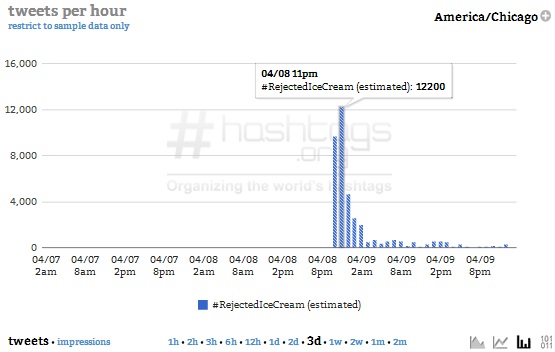 Courtesy of
Hashtags.org Analytics

Courtesy of
Hashtags.org Analytics
Other fun ideas included Baby Ruth, Bears, Beets and Battlestar Galactica, Chewbaccolate, Cookies and Creamed Spinach, Toothpaste and Orange Juice. Many of the covers also included references to controversial or famous people such as ?Herman Cain?s HarassMint Chocolate Chip? and ?Taste the Lin-Sanity? which is directed towards the NBA point guard. Let's look at some of the posts.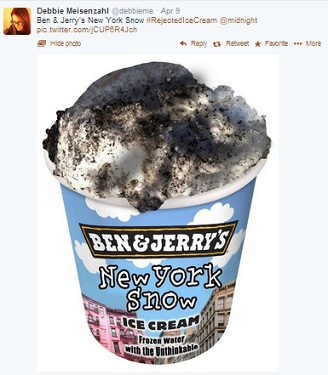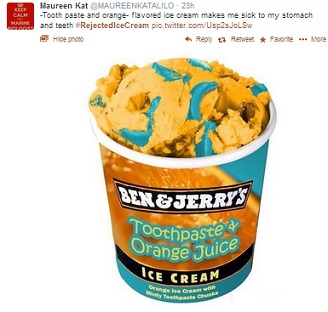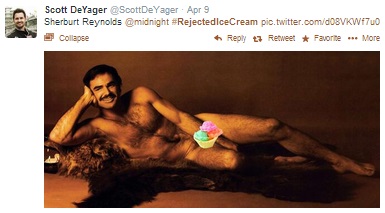 The hashtag #RejectedIceCream continues to trend well on Twitter, with many suggesting the weirdest ingredients that can be added in ice cream like rum, human hair, moose knuckles, spam and even human body parts. Hashtags like these are meant to ignite the creative genius of social media users everywhere.