Apple held their keynote earlier today, referred to in the Twitter world as
#AppleLive
, announcing many exciting advances in their products that many have been anticipating for a long while. First, they announced two new products coming out: iPhone 6 and iPhone 6+. They both feature bigger screens, the iPhone 6 at 4.7 inches, and the 6+ at 5.5 inches. For those not purchasing an iPhone 6 or 6+, Apple is releasing iOS8 for the pre-existing devices that are compatible. Another exciting advance is the iWatch, which has been rumored and is now confirmed. It will be out in early 2015, according to the speakers at the keynote.?Of course, with the exciting announcements and trends Apple was announcing, people had many things to say. Mostly about the products themselves, but some were focused on the speakers and the color scarf they were wearing.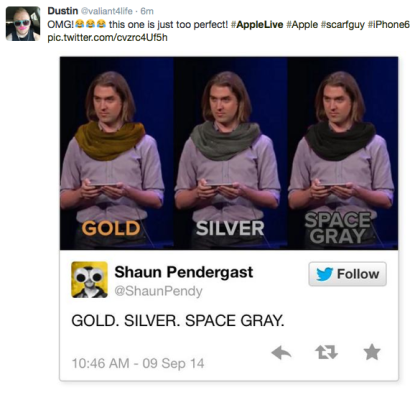 Others were interested in the new products and excited by the advances being made by Apple, even if they expressed it through jokes.

But, of course, there are always people who are displeased with Apple's products. There has always been a bit of a divide between Apple and Android, competing on which brand is better. This is never a clear area, because it is always up to the consumer. Searching through the hashtag, it is visible that some Android products and Windows products were advertised and promoted to show up in that hashtag, assumably to show the difference. Also, it is a good marketing technique to show the brand loyalists that there are other options out there.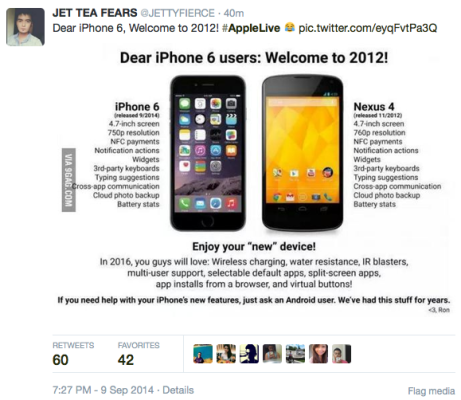 Either way, the #AppleLive hashtag was tweeted about almost 400,000 times during the keynote.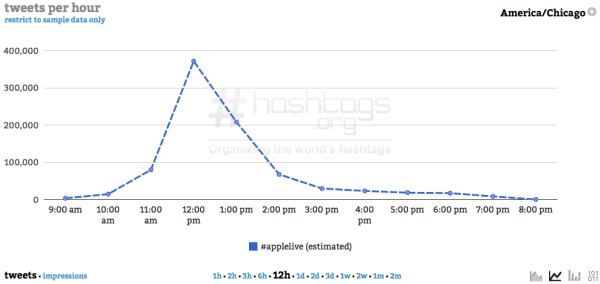 Provided by
Hashtags.org Analytics
Related hashtags include the products that they are announcing, the title of events, and even hashtags in different languages.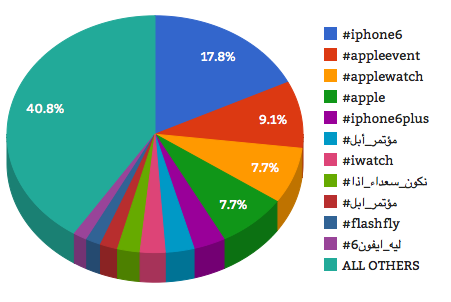 Provided by
Hashtags.org Analytics
Feature photo: ?
By Apple, Inc. [Public domain], via Wikimedia Commons