??by?
?
Ars Electronica
?
Google Glass
continues to gain momentum as top social media platforms the like Twitter, Tumblr and Facebook collaborate to come up with new apps. Google Glass is one of the most innovative products from the search engine company, described as an eyeglass frame that has the ability to search the internet, record videos and send email messages. A small panel is positioned just over the left eye so that the user can see images and browse the internet. Future users can expect to purchase products from Ebay, as well as gain access to the top social media networks, with the recent developments. Before, Path and the New York Times were the only apps announced to be included in the Google Glass experience. The inclusion of Ebay in the group will most likely result to show-rooming, wherein users can easily check items and product prices online and purchase as necessary. Google Glass is bound to take out advertisements to provide users with a unique experience that will truly match their interests and objectives. According to the groups tasked to come up with apps, they are limited to only make apps that are short and relevant for the small screen. These should be suitable for individuals on the go. Tasks should be made easier and alerts should be relevant. Facebook and Twitter introduced apps on May 16, 2013. In the app created by Facebook, users can conveniently upload pictures from Google Glass to their timeline. Speaking can also provide a description to the photos if the users like. Twitter on the other hand showed an app for Google Glass where users can share text messages and photos. The app use was presented by tweeting a photo from an array of sessions. The posted picture as demonstrated was provided with the hashtag
#throughglass
. Furthermore, the app also allows users to stay updated on other accounts using notifications. Tweets can be retweeted, favorite or replied to.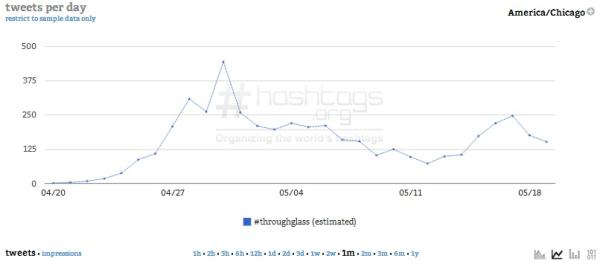 Google Glass is set to be released in a few months, but #throughglass has already gotten a lot of attention online. You can stay updated on the developments by following the hashtag. So far, it has generated 4,700 tweets and 24,300,000 impressions.


.