1. Twitter users talk about brands on a regular basis
For a period of almost seven months, the study showed that 80% of Twitter users mention brands in their tweets. Half of the subjects in the study mentioned brands at least 15 times during the said period. Almost all Twitter users in the study were exposed to brand mentions in one month alone. Some of the key approaches in exposing social media users to brands include using private messaging tools, using hashtags and coming up with creative and interesting social media activities. Burger King came up with the hashtag
#SubservientChicken
and ignited the attention of current and potential fans by reintroducing their famous mascot in lieu of the advertisement?s 10-year anniversary. It was an effective way to launch their new chicken sandwich as well and targeted both current consumers as well as those dating back 10 years. The hashtag made over 100,000 impressions in less than 24 hours and has since generated close to half a million impressions (as of this writing).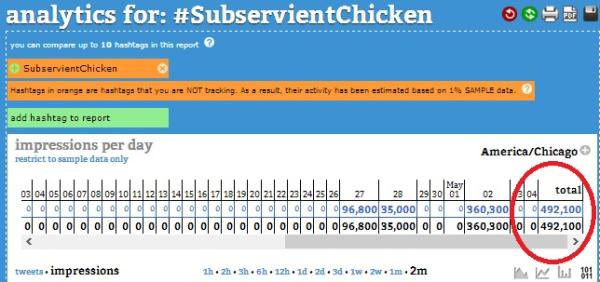 Courtesy of
Hashtags.org Analytics
2. Consumers respond after being exposed to brand mentions in tweets
Based on the study, 23% of those who saw brand mentions actually visited the company?s official website. 54% take action online and offline after seeing the tweet mentions. 20% visit the Twitter page of the brand after exposure. 18% retweet the brand mentions for others to see. 20% searched further online to know more about the brand. 19% considered the brand after being exposure. The study showed that younger consumers tend to take action more swiftly and are more likely to respond after exposure. The key approaches to increasing engagement and response include calling the target audience to action and tagging individuals.
3. The source of the brand mention affects consumers differently
Non-brand sources led 64% of Twitter users to respond after being exposed to the tweet mentions while 45% of Twitter users responded to tweets coming from the brand itself. Regardless of whether the source was brand or non-brand-related, 79% of the subjects took action online and offline. Paid messages and free consumer engagement techniques can be used simultaneously to guarantee huge engagement and reap quick and long term benefits.