Start a List
Start a Twitter List by looking for people you wish to group together. Begin searching the actual handles of people you already know via the search field. When you find these individuals, go to the Twitter profile then click the icon located on the gear icon. Click on the option ?Create a list? then fill in the ?Create a new list? pop up. You will need to indicate the list name, description and privacy settings. Set privacy to either public or private. You can make a maximum of 20 Twitter Lists depending on the characteristics and similarities of the people you?re categorizing. The account of the person you saved will be added instantly to the created list. You can refer to the lists whenever you need something on social media.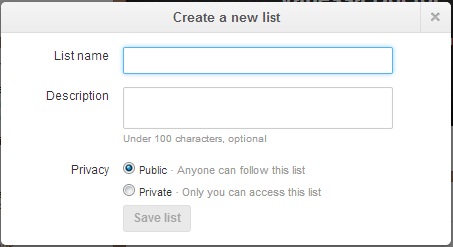 The Advantages
1. Save time and effort.
You don?t have to keep searching for people in social media networks one by one. You can simply refer to the list to identify the individuals you wish to address or monitor. You can further filter the Twitter stream so you can determine which posts can be retweeted or may be useful to your research or social media campaign. Following several individuals and using traditional lists can be confusing and you may miss some important people.
2. Arrange tweets properly.
Online users don?t have to move from one account to the next or share content to random individuals online. The lists will be a quick and easy pool of accounts that pertains to the same subject matter. Should you wish to browse tweets relating to the same industry or share your own posts and media content that will attract target clients, Twitter Lists will present you a very accurate and detailed list. There is no wasted effort and you drive the right accounts to follow you online.
3. Get the right information.
Aside from quickly sharing useful content, you also get the right type of information that will help grow your business further. You can read posts and conversations among the people you arrange on Twitter Lists so you can also attend to their concerns and provide for their demands. Market research becomes so much easier with the lists available.
4. Increase visibility.
If you make the wish public, you will most likely invite other relevant individuals into your own network. Through the process, you can also browse other people?s lists and add specific individuals to follow. Meet some more experts and mentors in the industry and grow your business continually by participating in their respective activities and social media events.