??by?
?
opensourceway
?
Whether you?re new to business or wish to improve customer service and sales, there are a number of
hashtags
that will be helpful in accomplishing your online objectives. Hashtags are used by some of the biggest companies to
cater to customers better
and share quick updates. Individuals looking to start their own business and build a social media strategy around it can also benefit from following these hashtags, which lists useful information -- from the basic to the most advanced social media tactics.
*Data listed are as of March 18, 2013.
The hashtag is ideal for people who are
starting their own retail store
in 2013. The conversations cover things you need to know before launching a retail shop, as well as tips on how to keep the target market interested to boost sales and income. In the past week, the top related hashtag used with #retail is #jobs.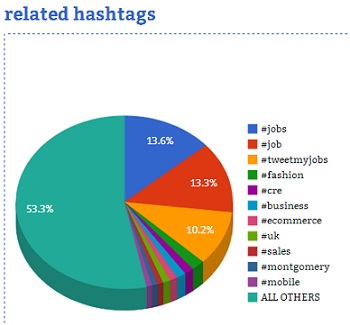 Courtesy of
Hashtags.org Analytics
The hashtag is particularly focused on
small business owners
, providing guidelines on monitoring sales, finances and strategies. The conversation will be helpful for both new and old business owners who intend to stay strong in the industry. Experts are also on hand to give tips.
This is a great conversation place for individuals who like to incorporate social media into their business strategy. People exchange their own experiences and share tips on how to stabilize your business using social media. There are also links and updates on the latest technologies and features to cater various types of businesses. Here's the latest buzz on #SocialBusiness.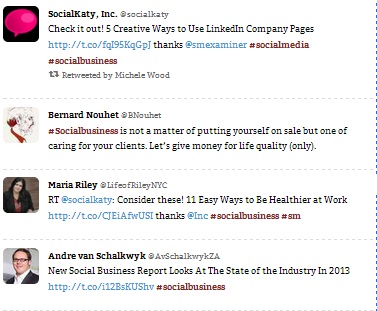 Business owners and entrepreneurs
can share tips and solutions to different marketing needs and concerns. You can talk to marketing experts and discuss some of the known and effective approaches that will bring in the right customers.
Considering how social media affects businesses worldwide positively, the hashtag was created to guide marketers and business owners in using social media to push their brand further. There are tips and examples on how particular social media features and strategies can work for certain businesses and what the relative effects and benefits are.
The hashtag was created by American Express and advises buyers on the various benefits that come with supporting small American enterprises. Conversations involve effective techniques and useful guidelines on how to maintain your small business too. Small Business Saturday was originally meant to be a shopping holiday in the US, following Black Friday and before Cyber Monday. It was first introduced in November 2010, where holiday shoppers were encouraged to go to brick and mortar local shops. It has evolved into a venue for hashtag users to share insights online eventually, used to promote small businesses and highlight local shops on any Saturday (similar to
#FollowFriday
).
Businesses should be constantly updated about the recent developments in information technology so they invest in the right platforms and gadgets that will keep the target market interested and informed. The hashtag discusses the latest creations and improvements in technology and how these can be suitable for specific businesses.
The hashtag focuses on
small businesses
. Conversations feature some of the experts in the industry who can give quick facts and solutions to common small business problems and concerns. It is a great place for beginner and advanced business owners.
People who are planning to start their own business or have recently launched their company can avoid the common pitfalls by visiting the hashtag. Conversations cover some of the experiences of entrepreneurs when launching their own small business.
Individuals who are interested in starting their own restaurant will get a lot of help from the hashtag. You can find the most useful tips whether you?re setting up an original concept or getting a franchise. There are plenty of restaurant owners on hand that will share their own insights.