Yesterday, social media was riddled with advertisements and stories of sweet deals. Unlike it's counterparts #BlackFriday and #SmallStoreSaturday, #CyberMonday is the less intense version that finishes off the biggest shopping weekend of the year. It's almost a combination of the two prior days as #CyberMonday allows for shoppers to browse any store they want without having to leave their homes. Of course, taking place almost exclusively online, social media was most likely a factor in sales. Seeing the huge popularity of this hashtag, those who took advantage of it could possibly have been the most successful.

With relative ease, consumers could instantly add an item to their virtual shopping cart and check out at the cyber registers all under a minute. This ease of access is what brought #CyberMonday to become what it is and certainly gives online-exclusive stores a chance to participate in the shopping weekend. From things electronic such as movies, music, and games to deliverable goods including clothing and furniture, #CyberMonday can be a secondary place to find items in stock after #BlackFriday. Among the tens of thousands of Tweets advertising businesses, there were plenty of people who shared what they thought of #CyberMonday including great deals they found, heads-ups to friends on a secret sale, or jokes about the day in general.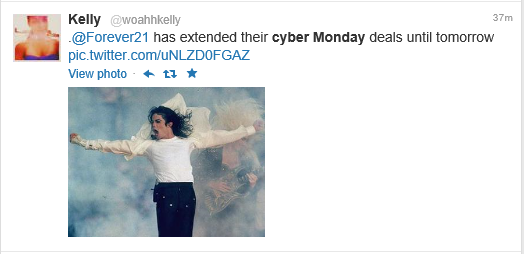 Plenty of people take advantage of the shipping as they can purchase items online and have it shipped right around Christmas or a certain day for when they need it. This is helpful as they don't need to store it. It is pretty similar to the many layaway advantages during #BlackFriday only the consumer doesn't need to head out to the store. This is what makes #CyberMonday unique to the weekend. For better or for worse, #CyberMonday appears to become increasingly popular year after year as more businesses open their cyber doors.
Link to?Definition.
Featured Graphic: From Conectica.com.mx. Creative Commons Attribution International 4.0.