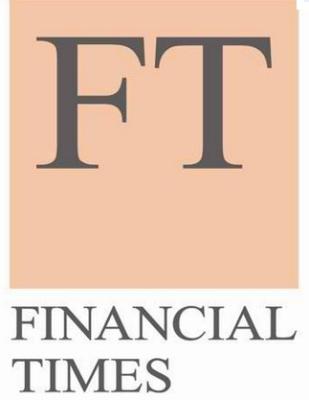 The Syrian Electronic Army, an anonymous hacking group, has attacked a number of major news publications in the past few months, the Financial Times being the most recent victim. The Financial Times? account on Twitter, as well as its website, were hacked on May 17, 2013, with the hacker leaving a message: ?Syrian Electronic Army Was Here? on several Twitter accounts owned by the Financial Times. Other previous victims by the hacker include The Guardian, The Onion and The Associated Press. As a response, the publication immediately informed social media users about the recent attack and suspended the
@thelexcolumn
account. The
@FTMarkets
account was also cleared of the messages left by the hacker.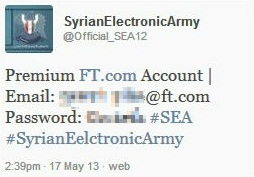 Before the Financial Times, three accounts by the BBC were also attacked on Twitter by the same group. One account had may messages with racial and political content. In April, the NPR or National Public Radio website was also accessed, where article headlines were altered and accounts associated with NPR were entered into to post on Twitter. The attack made to 11 accounts owned by The Guardian resulted in the Syrian Electronic Army?s account being temporarily suspended. When the hacker attacked the Twitter account of The Associated Press, they left this message: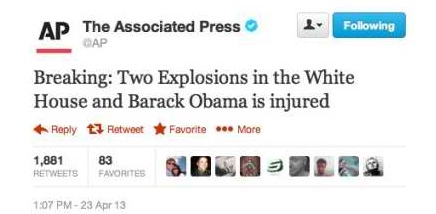 The Syrian Electronic Army is speculated to be composed of online activists and hackers who support Bashar al-Assad, the president of Syria.