??by?
?
aktivioslo
?
Canadian pop star Justin Bieber, an active social media user, posted at around 11:25 am on Christmas Day that he was retiring. His handle
@justinbieber
tweeted, ?My beloved beliebers I?m officially retiring.? However, several minutes later, he tweeted, ?The media talks a lot about me. They make up a lot of lies and want me to fail but I?m never leaving you, being a belieber is a lifestyle.? Bieber is currently 19 years old but has been attacked by the media in the past few months for his "scandalous" and outrageous activities, like driving under the influence, marijuana use and getting into bar brawls. He says that the media has been disturbing him for a long time already. Bieber has also received mixed reactions from people around the world. While thousands of teenage fans idolize him, there are also some who question what the big hype is truly about.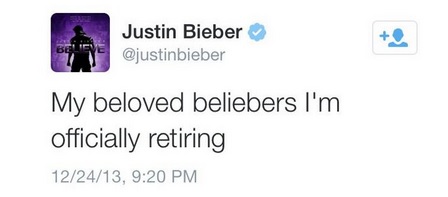 Although eventually it was revealed to be a prank, there was already a barrage of tweets within the short time frame since he shared the news. There were a number of ?cut for Bieber? tweets that surfaced again. The group is comprised of young teenage girls who threaten to cut themselves whenever the star does something that could harm himself such as smoking weed. There was a combination of serious and funny tweets. Some talked about how depressing it was to learn that their favorite singer was retiring. There were also tweets poking fun at Bieber?s ways as well as other people who have become big fans. Here's how Twitter reacted to the post.