As soon as the news was released, the hashtag spread across social media. It appeared
#AlexFromTarget
was back. Now, it appears he will be attending a travelling social media and music festival. The hashtag revealed
#AlexFromTargetAtDigiTour
. This famous internet celebrity spontaneously appeared a few months ago and has become an internet sensation. The announcement of his appearance at DigiTour was also pretty spontaneous as the tour begins its trip on Valentine's Day tomorrow. The show will go?all around the country starting on the East Coast in Long Island?and working its way West to?Anaheim.

Courtesy of
Hashtag Analytics
Reaching Tweet rates of approximately 15,000 Tweets per 15 minutes, the hashtag was pretty strong at first. Being introduced late in the evening, it wasn't quite seem by many people across social media. Still, it did add up to about 36,800 Tweets per hour at its peak hour. The many related hashtags were actually on point with #AlexFromTargetAtDigiTour. While #AlexFromTarget is a hashtag of the past, DigiTour offered more than just Alex. Some Twitter users who planned on attending the tour were excited to hear about the announcement and the tour to come to their city.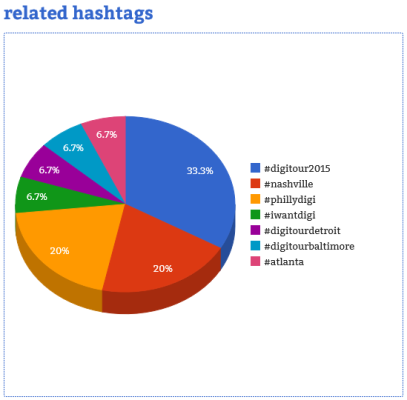 Courtesy of
Hashtag Analytics
Alongside the announcement of #AlexFromTargetAtDigiTour came plenty of free tickets (including VIP) to some of the shows. This?brought the number of Tweets up as the excitement was only increasing.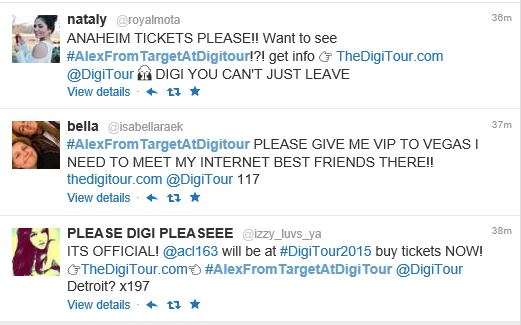 While people were excited for more than just #AlexFromTargetAtDigiTour, they figured it would quite interesting to actually meet the man in the photo. His fame began from a simple image shared on social media, so perhaps they are going for a shot at something as big as what he "achieved". Offering much more than just Alex, though, DigiTour kicks off on February 14th and continues through the beginning of March. Being based highly off of social media celebrities and events, this tour will surely spark up a few more hashtags over its lifespan.