It's like the Golden Globe of the sports world. Football (also known as Soccer in some countries) celebrates its best players annually at an exciting worldwide event. From who was determined to show the most fair play all the way to the voted-best player of the year, this event shows just how great the worldwide football community is. The
#BallondOr
winner was Cristiano Ronaldo for the 2nd year in a row which became his 3rd total ?overall. The runners-up included the popular Argentinian Lionel Messi and World Cup winning Manuel?Neuer?from Germany. This huge event?featuring these incredibly amazing football players led the hashtag to a pretty big trend which lasted?the majority?of the day in increasing numbers as the news spread.

Courtesy of
Hashtag Analytics
The hashtag started out in decently low numbers in the thousands per half hour. When the event started around 10 AM Central Standard Time, the rate of Tweets more than doubled until it peaked?around 200,000 Tweets per half hour after the #BallondOr award was announced. That one, final award that singled out the best of the best signaled news agencies and fans all across social media to celebrate the accomplishments of one player. Of course, even if fans didn't see their favorite player or teams win any awards, they still celebrated and participated in the event with other related hashtags.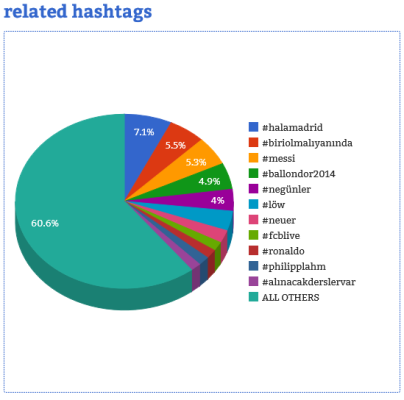 Courtesy of
Hashtag Analytics
Tweets were pretty predictable in regards to content. There were the avid fans of players, coaches, and teams. There were also honest critics who, although they may have liked a certain player better, saw the achievements of another to be more accomplished than another. Of course, the biggest news being the #BallondOr award sparked plenty of news organizations to celebrate the celebrity with a spotlight that highlighted his many achievements this year. It appeared all of the other contestants were pretty honored to even be picked to compete for this award.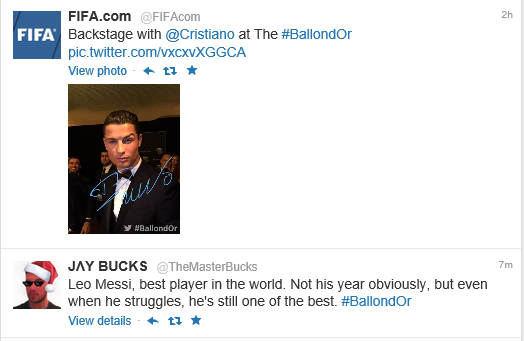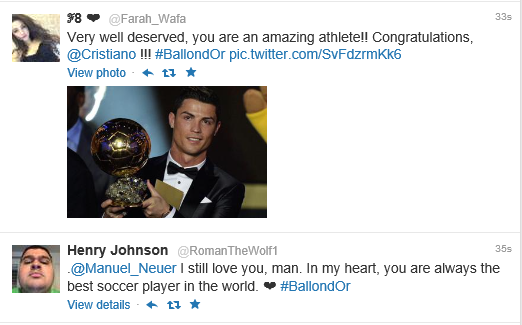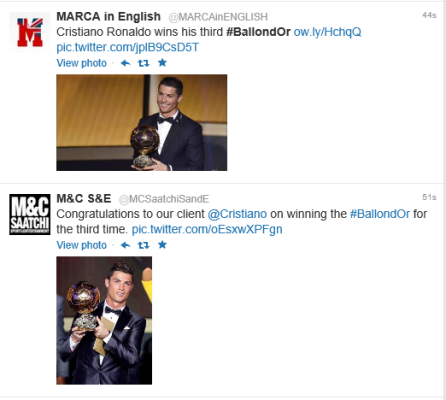 Ronaldo has pretty much already captured the world's attention over the last year, so it was expected that he would win. Either way, the world had its fair share of football celebrities packed into one award show, so fans must be pretty happy.