Internet celebrities certainly thrive over the use of social media. As seen with
#NashsChristmasSkit
, a simple hashtag can be heard around the world in?a matter of minutes. In this case, the hashtag was used for a video, as that is?what the hashtag's creator started it for. This hashtag blew up incredibly fast and reached past a Tweet rate of 400,000 per hour in it's first full hour. The trend only last a few hours though after the video was released. The speed at which it was passed around was truly phenomenal. Even during its downfall, #NashsChristmasSkit received over 20,000 Tweets per hour on average which is usually the peak of a trending hashtag.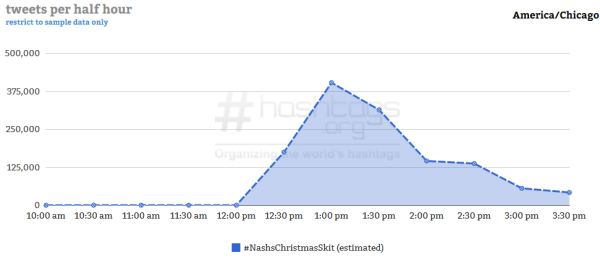 Courtesy of
Hashtag Analytics
The hashtag also spawned up a few other related hashtags. These were similarly titled and reached Tweet rates almost as impressive as #NashsChristmasSkit. These hashtags didn't quite become the most popular trend about the video though as they weren't the official one Tweeted by the owner.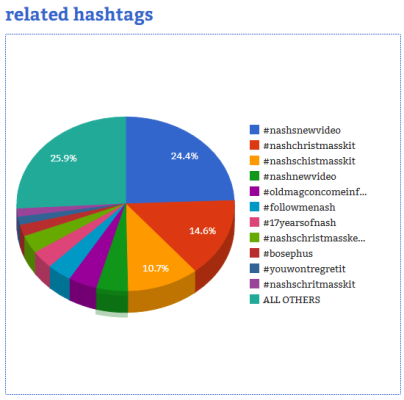 Courtesy of
Hashtag Analytics
These hashtags did not reach the same heights but were still popular mainly due to common mis-spellings or hashtags directed toward the creator of #NashsChristmasSkit. All sorts of people, both fans and those who had never heard of Nash, were Tweeting with the hashtag. After watching the short video, they were encouraged to pass it along. Those who found it funny (which appears to be several hundreds of thousands of people) were more than eager to pass #NashsChristmasSkit along to their friends and followers.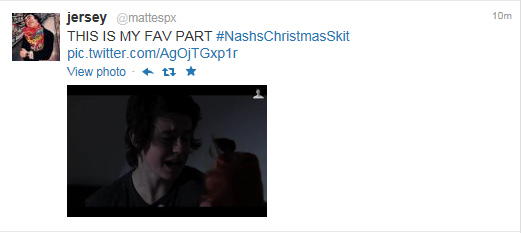 The video received?plenty of praise from?many social media users.?Even though the video's view count didn't?spike as fast as the?use of #NashsChristmasSkit did,?the hashtag still did more than?was probably expected. This is yet another great example of how fast one hashtag can be presented to all of social media.