The last quarter of the year is that time of year filled with holidays, fluctuating weather, and awards everywhere. This weekend, the American Music Awards (#AMAs) are expected to?broadcast to?millions of viewers across America. With some of the most prestigious artists promising to attend, the event is sure to be entertaining regardless of whether or not your favorite artist wins the award you voted for (or any award, unfortunately). The polls for "Artist of the Year" as well as "Best New Artist of the Year" close today, and many individuals expressed their support for a particular artist across their social media sites. The trend has been around for over a week now as people gear up for the award show following many announcements of plans for the show. With voting for the two aforementioned awards open, social media has expanded the #AMAs trend to almost double the rate of Tweets per every hour last night.

After opening the polls, people demanded that their friends and followers join them in voting for their favorite artists. The choices were narrowed down over the year to only five artists/groups in each category. Because of this, the hashtag was seen associated with hashtags related to those artists. There were also some official?celebrity accounts and fan pages that reached out to their followers to remind them to vote.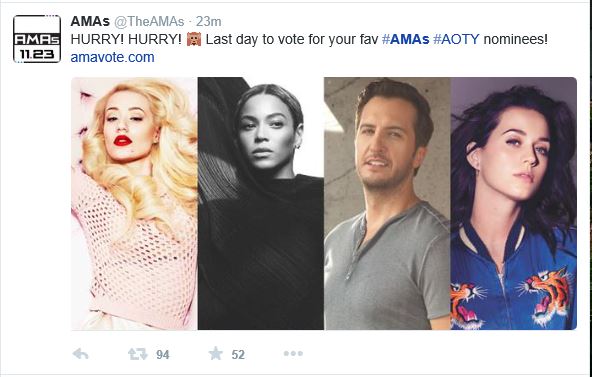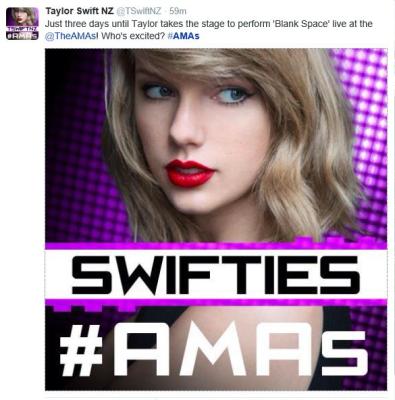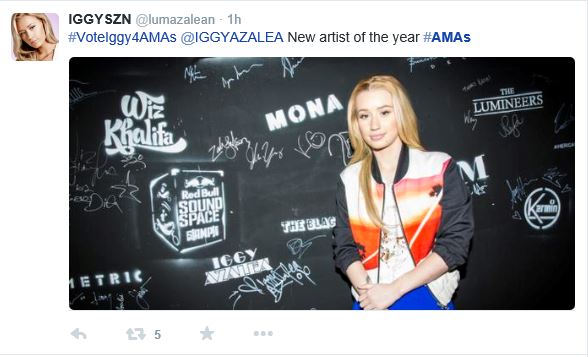 These artists all seemed to be playing it light-heartedly as many are expected to show up and show off some live music. Even artists who weren't established in the top 5 choices for the "Artist of the Year" award encouraged their fans to go and vote for who they liked the most. Stay tuned as voting opens for other categories. The voting takes place here:
Vote
?and requires a valid social media account in order to prevent multiple votes per person. Definition:?
/definition/amas
Featured graphic: From Wikispaces.com Creative Commons Attribution-ShareAlike 3.0 Unported