If you don't know who Elvis is, then you have probably never listened to music before. Known famously as the king of Rock and Roll, Elvis lived a traditional story of persistence with his unique style of music. Of course, with so many big songs and memorable moments, he became popular all over the country. Fans were disappointed by his sudden death which has contributed to many tribute singers and whole new genres based off of his ideas. With the celebration of his birthday pretty much every year on social media, he turns 80 years old as of yesterday?which caused the hashtag
#Elvis80
to trend for quite a bit.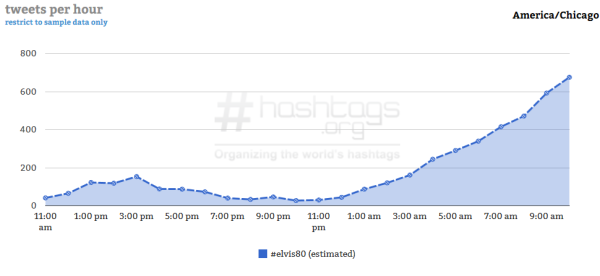 Courtesy of
Hashtag Analytics
The trend slowly rose steadily but without reaching enormous Tweet rates. This is partially due to the many related hashtags found alongside #Elvis80. Each of these hashtags represented something about Elvis that helped fans reminisce. Even those who knew nothing about Elvis got a little glimpse at what sorts of things he accomplished thanks to all these hashtags.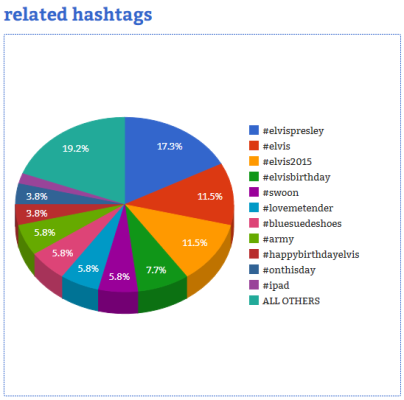 Courtesy of
Hashtag Analytics
It can be said that instead of dividing Elvis fans, #Elvis80 and its related hashtags inspired social media. Being popular a few decades back, many younger Twitter users may not have ever even heard a song by him. They may know who he was, but hearing about him all over the internet may have been what they needed to learn a bit about him.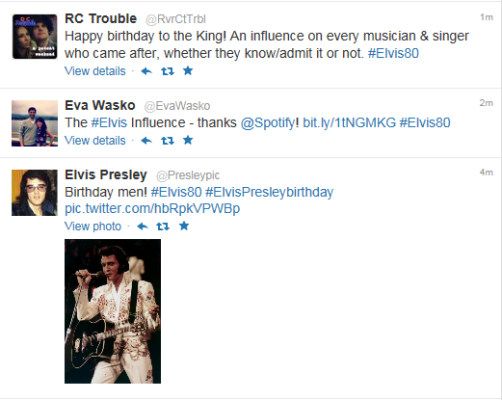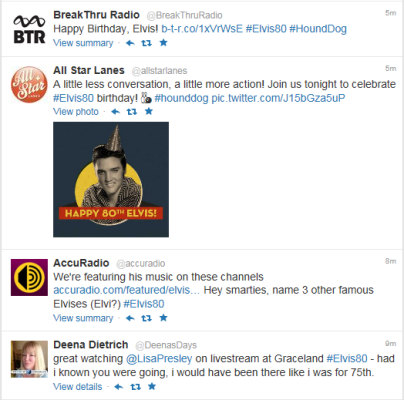 Many people found plenty of ways to celebrate. Simply turning on their radio or putting on some old records, #Elvis80 brought Elvis's music back into the homes of good-music loving fans. For some, it brought back old memories. For others, it gave them something new to learn about from an important history.?No matter how people went about their day though, Elvis Presley would surely be happy with the appreciation from his fans.