#WhatJayZSaidToSolange
has also gone viral as social media users poked fun at the incident, trying to guess what could have ignited Beyonce?s younger sister to attack Jay-Z. The incident happened on May 5 after a Met Gala after-party. When they stepped inside the elevator, Jay-Z said that he was going to the Rihanna party instead of going home with Beyonce. A drunk Solange asked, ?Why can?t you go home?? according to a source. Jay-Z responded sharply, ?You?re one to talk.? Apparently, Jay-Z was already fuming over Solange inviting some of her friends who turned out to be gatecrashers at the Met bash. He did not like the idea of Solange?s unknown and underdressed friends namedropping him to be let in. Jay-Z allegedly told Solange and her friends not to use his name. Solange went back with a flurry of punches and kicks, a few landed hard on Jay-Z but the younger Knowles was pulled away by the rapper?s bodyguard. The eerie thing was, Beyonce just stood behind Jay-Z the entire time and did not retaliate or try to defend her husband. After Solange was completely pulled away from Jay-Z, that was the time that Beyonce finally stepped in front of Jay-Z. There were also photos and footage of all of them stepping out of the Standard Hotel elevator as if nothing has happened. The hashtag #WhatJayZSaidToSolange was full of memes and scenes from the incidents, as social media users shared their unique ideas. One user tweeted, ?Jay Z was trying to remember who Solange was? and then it hit him!? another tweeted, ?Solange: Stop calling me Beyonce?s sister! Jay Z: Okay Blue Ivy?s aunt.? Many of the tweets were about Solange?s unknown status, considering how much of a superstar couple the rapper and Beyonce were. Blood is thicker than water anyway, so it did not stop Beyonce?s sister or Blue Ivy?s aunt from landing a few good ones on the millionaire. Tweets exploded, with the hashtag reaching half a million?tweets in just under three days and nearly 700 million?impressions. That's an insane number of posts!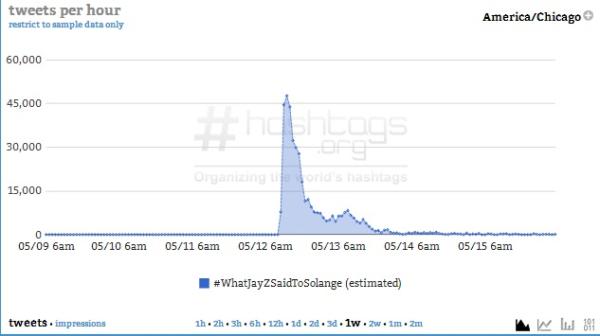 Courtesy of
Hashtags.org Analytics
Here are some of the hilarous memes posted on Twitter. These have been shared too many times on the micro-blogging site it's hard to pinpoint where some of them started. Nevertheless, have a good laugh.