??by?
?Bert Kommerij
?
Singer Susan Boyle (
@SusanBoyleHQ
) recently launched her new album, "Standing Ovation," alongside a Twitter hashtag campaign
#susanalbumparty
-- which was grossly misinterpreted by netizens. Her PR team tweeted via her account: ?Susan will be answering your questions at her exclusive album listening party on Saturday. Send in your questions #susananalbumparty?. After a few minutes, online users immediately noticed that the hashtag seems to have a double meaning. It started trending well and was retweeted several times. Many music and media experts commented on how Boyle?s PR team might not have spent much time reviewing the hashtag before its release to social media users. The PR team removed the tweet upon realizing its mistake. It was unintended on the part of Boyle?s team, they said. The ?party? was meant to refer to a question and answer session to further promote the album ?Standing Ovation? which features classic hits like ?Memory?, ?Somewhere Over The Rainbow? and ?You?ll Never Walk Alone?. Several online media experts speculate that most of the retweets and shares stemmed from the unusual and ridiculous hashtag, instead of the obvious star power of Susan Boyle. Overall, they accomplished their objective of creating a buzz on the social media platform, albeit through unintentionally controversial means. The hashtag was eventually changed to
#SusanBoylesAlbumParty
, which has been rarely used to date. Here are some of the tweets on the hashtag campaign turned awry.




Here's how #susanalbumparty fared on Twitter.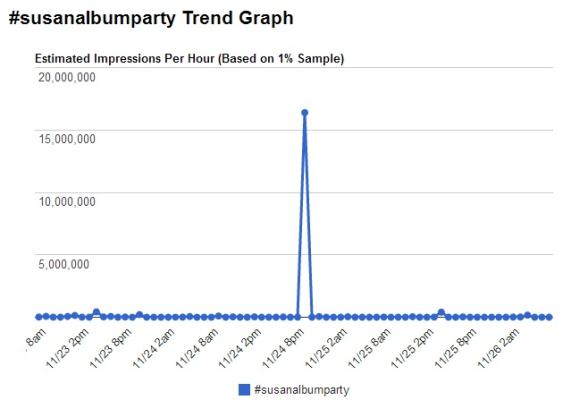 Courtesy of
Hashtags.org Analytics