The UEFA Champions League is full of Europe's best football clubs. These 32 tops teams are divided into groups of 4 as usual in football tournaments. Out of these 8 groups comes a pair of the best teams in those groups who advance into the next round of play known as the knockout round. Chelsea, which is currently number 1 in England's finest league, the Premier League. With an outstanding score so far this season, it's not wonder many had their bets placed on Chelsea. However, having almost as impressive statistics comes Paris SG, a club that is tied for second place in Ligue 1, the French's top professional league. The hashtag to represent this impressive faceoff in the Champions League was simply
#PSGCHE
.

Courtesy of
Hashtag Analytics
All of the commotion throughout the duration of the match kept fans around social media on their heels. Two of Europe's best teams could be one step closer to elimination after this match. This spawned out plenty of Champions League related hashtags that highlighted the strengths of the two teams in the #PSGCHE match as well as the rest of the teams left.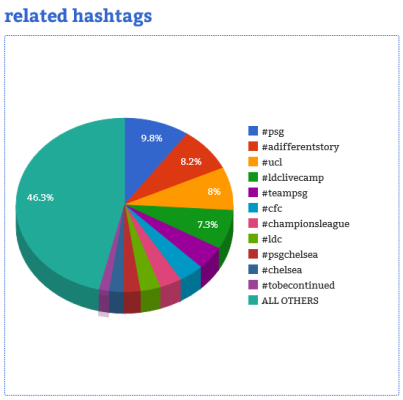 Courtesy of
Hashtag Analytics
Fans were sure to point out that the outcome of the match wouldn't necessarily be the end, but rather there would still be a chance for their team to get back into their groove and advance into the Quarter Finals with 8 other teams and face even more difficult challenges.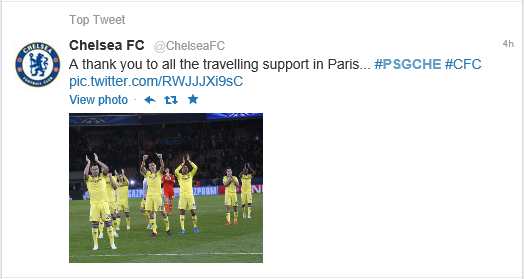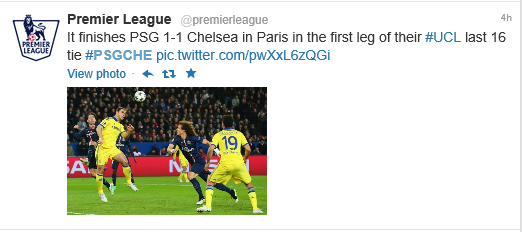 Eventually, things ended in a bit of disappointment for both sides. Though not completely satisfied nor dissatisfied, they were content that they could both live to see another day. However, this meant that their next matchup was going to be just as tough, especially seeing all of the close calls felt by both teams. With 90+ minutes of non-stop action, they prepared themselves for another round of #PSGCHE.