One glance at Real Madrid's roster and there's no way you can't call it a dream team. The same pretty much goes for Atletico. You can imagine what the matchup of
#RealMadridvsATL
would therefore be like. Football fans across social media absolutely love this classic rivalry between these two power houses in the sport. This in turn caused quite a large number of Tweets using this hashtag throughout the duration of the match and even for awhile afterwards. The #BallondOr hashtag even resurfaced as the winner, Cristiano Ronaldo, played and showed the world he deserved it.

Courtesy of
Hashtag Analytics
The trend took a dip right around 1:30 PM Central Standard Time during halftime but sparked right back up as the battle raged on. With plenty of star players and several intense moments during the game, there were several hashtags that appeared related to #RealMadridvsATL. These mostly came from Real Madrid fans as the team holds a diverse roster consisting of star players from all sorts of different places.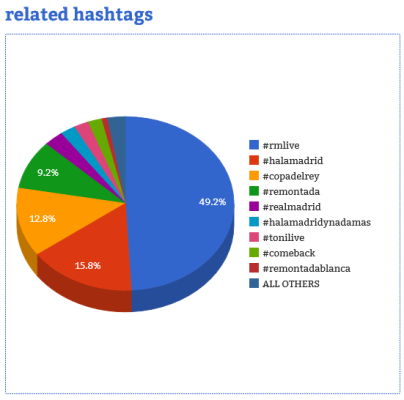 Courtesy of
Hashtag Analytics
Social media was hit with surprise after surprise after the score flipped both ways. Star players who hadn't shown their dominance were finally getting a bit of a come back as they fought on. However, even after the display of excellence, the match ended in a draw which left some fans disappointed while others were just glad their team was living up to its potential.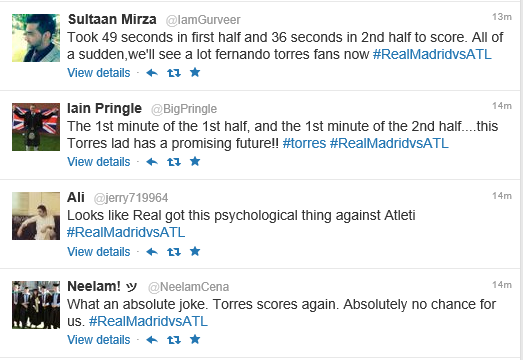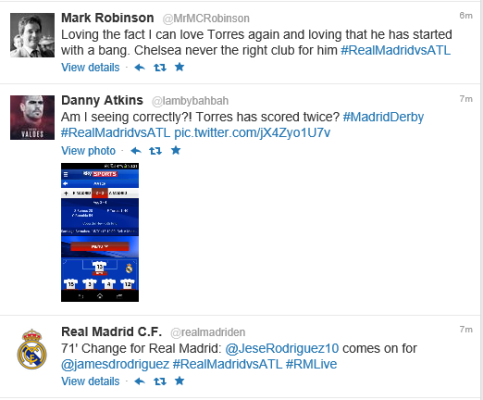 After the #RealMadridvsATL match was over, Real Madrid dropped out of the #CopaDelRey as they needed a win to survive.?Atletico fans are especially happy that their star Fernando Torres from Spain was able to show his true skill once again after being a disappointment to fans for quite some time. Regardless of favoritism, all fans seem to agree that this match was well fought and that the score was exactly as it should be.