It's bowl season, and two of the nation's biggest teams faced off yesterday in the
#MusicCityBowl
. The game featured two teams that have a history of being a powerhouse yet did not quite live up to their capabilities this season. Still, the two drew in large crowds thanks to that powerful history and development of huge fan bases. There have already been plenty of other bowl games played the last few weeks, but none have reached these Tweet rates, and none have spawned this many related hashtags either. And thanks to an exciting game in its entirety, the #MusicCityBowl game lasted a little longer than the game itself as the news of the ending rolled in.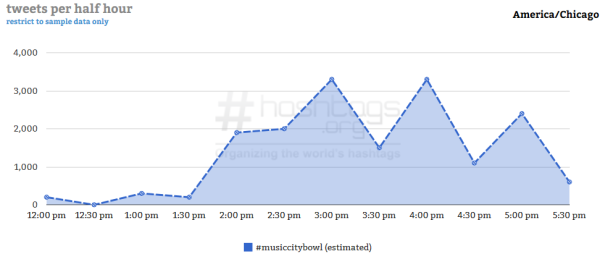 Courtesy of
Hashtag Analytics
Like most football games, it is pretty predictable to identify where the commercials are. The big dips in the Tweet rate usually shows this as people stop Tweeting as much while nothing is happening. There were also plenty of related hashtags?to #MusicCityBowl as mentioned before. These were mainly brought out by the teams' social media accounts or slogans for the game.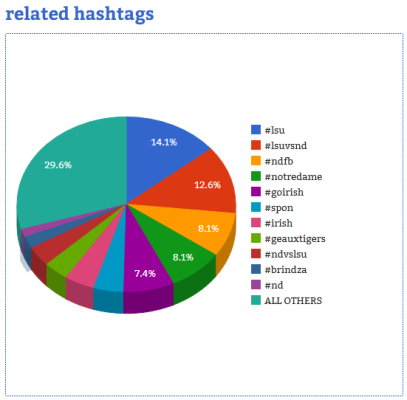 Courtesy of
Hashtag Analytics
Although there were many related hashtags, the one that finally seemed to be agreed upon to be the most relevant was #MusicCityBowl as it didn't list either team in any particular order or at all. That's why there were so many others regarding each team and its players.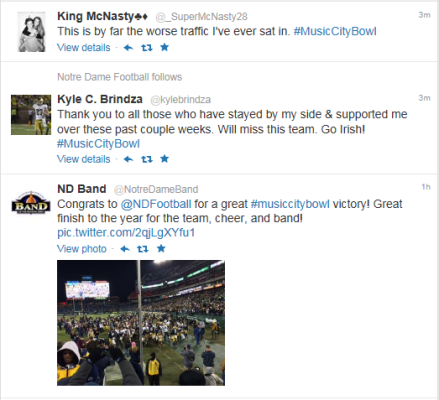 Among the many uses of the hastag were statistics, updates, highlights of important plays, and those who were at or around the game and had to deal with all the traffic. Even some of the players were letting their fans know how much they appreciated all their support throughout the year. Unfortunately for many seniors, this is the last time they will play for their team. Fortunately though, both teams went out with a well-played game.