Well it certainly wasn't an easy run for the San Francisco Giants, but they were still able to achieve victory. With the utmost confidence in Game 1, the Giants finally close out the #WorldSeries against the Kansas City Royals. This great American sporting event caused quite a ruckus throughout social media as literally hundreds of thousands of viewers watched the spectacle. Tens of thousands of fans shared what they thought about the final game last night, especially what they thought of the ending right around 10PM Central Standard Time.

The huge spike seen in the graph is right around the last inning of the game. The Giants had finally secured the title of World Champions of baseball with a score of 3 to 2 against the Royals, 4 to 3 in games won overall in the series. It was certainly not an easy task for San Francisco as suggested by Royals fans among social media.





Overall, both teams game the other a run for their money. While the Giants had a high scoring finish to game 1, the Royals quickly responded and the rest of the series seemed pretty back and forth with both teams trying to finish strong. Unfortunately for the Royals, they were stopped just short. Plenty of other hashtags arose out of this great #WorldSeries which represented both teams.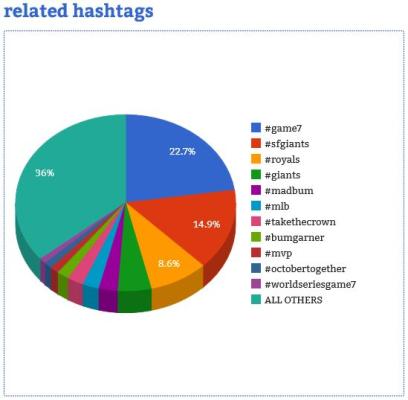 The chart shows the many hashtags related to #WorldSeries including the most valuable player Madison Bumgarner (#MadBum, for short) and other celebratory Tweets from San Francisco fans. A decent chunk of the graph represented by #Royals was mostly the Kansas City fans staying positive after their defeat. The title of champion is a big deal for baseball fans. The Giants have won several championships already and have again earned that respect. San Francisco will definitely be celebrating for some time after such a long fought battle. Definition: /definition/WorldSeries Featured graphic from Deviantart.net. Creative Commons 2.0.