It's only been a couple months since the end of the United States's run through the?World Cup. Since that last day in an epic match against Belgium which will surely go down in history,?team USA has already played the Czech Republic and Ecuador in Friendly matches. While the latter resulted in a loss and only occurred 4 days prior to this #USAvHON match, the Stars and Stripes?were ready and anxious to try out some new tactics on the field. Not only was the team anxious, but the fans over Twitter and social media were ready for a better turnout and more goals than the last match against Ecuador.

Typically sports hashtags can get a little scattered. While #USAvHON was the top of all the trending hashtags for the match, there were also related posts such as #usmnt, #ussoccer, #usa, #onenationoneteam, and more. These hashtags were all about the #USAvHON match but were a little more general. Plus, #USAvHON was the hashtag of choice for the official United States soccer team's social media account @USSoccer. Fans of? soccer clubs around the country witnessed their local heroes go to work to represent the nation from teams such as the #Sounders and #NERevs. These sports stars were icons for both their community and their nation at the same time.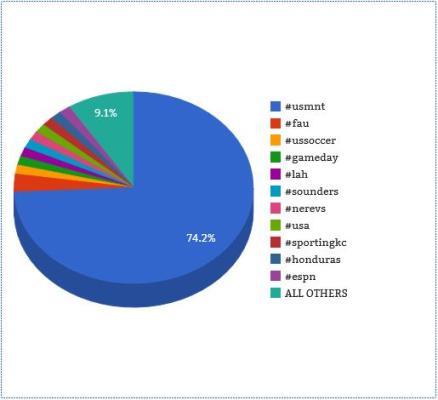 While the United States held on for quite awhile, they gave up an equalizing goal late in the match. This has been the trend for several of their past few games and was no exception to this #USAvHON meeting. The team's Twitter account remained positive about the miniscule time left after that goal, hoping that there would be another for their own side this time.

Unfortunately for them, the #USAvHON match belonged to neither team as it ended in a draw tied at 1-1. Will the #USMNT's curse ever be broken?