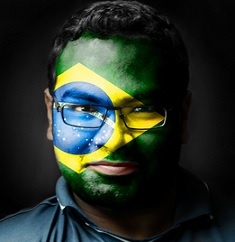 ??by?
?
damien_thorne
?
As the 2014 FIFA World Cup commences in Brazil on June 12, 2014, fans should stay close to the action through Twitter hashtags. Several users and companies have started to create hashtags to bring together fans and get more support from different parts of the globe. Also, fans can get the latest updates on their favorite teams and players as well as get quick information from advertisers and official sponsors.
@TwitterSports
created some lists for countries that will be joining the tournament. People can then follow their favorite teams through hashtags. @TwitterSports is the official account of the social media site which tracks and provides tweets that focus on sports for fans and social media users. Tweets are monitored from different parts of the world so potential followers can pick the accounts and hashtags that they like to follow and subscribe to. Fans can conveniently subscribe and get the latest news, updates and even photos and links of their favorite teams and players. Since the start of June 2014, several World Cup teams have been followed by thousands of fans. Those in the top include Mexico (
@miseleccionmx
), Colombia (
@FCFSeleccionCol
), Brazil (
@CBF_Futebol
), United States (
@ussoccer
), Japan (
@jfa_samuraiblue
) and Spain (
@SeFutbol
). Some of the official hashtags for the 2014 FIFA World Cup are
#worldcup
and
#Brazil2014
for English audiences. Spanish audiences can join
#Brasil2014
, the French can join
#CM2014
and
#Bresil2014
, Germans can join
#wm2014
and the Portuguese audience can join
#Copa2014
. Every team participating in the World Cup also came up with their own official hashtag, such as
#USMT
for the Men?s National Team of the United States. A number of players have also been widely followed on Twitter, especially in the month of June. Included in the list are Cristiano Ronaldo (
@cristiano
) of Portugal, Wayne Rooney (
@waynerooney
) of England, Neymar (
@neymarjr
) of Brazil and the Spanish team?s Andres Iniesta (
@andreiniesta8
), Xabi Alonso (
@XabiAlonso
) and Gerard Pique (
@3gerardpique
). The most followed World Cup players in the United States team are JozyAltidore (
@JozyAltidore
), Jermaine Jones (
@Jermainjunior
), Clint Dempsey (
@clint_dempsey
), Brad Guzan (
@bguzan
) and DeMarcus Beasley (
@DamarcusBeasley
). Let's check out the activity on the primary hashtags as of this writing.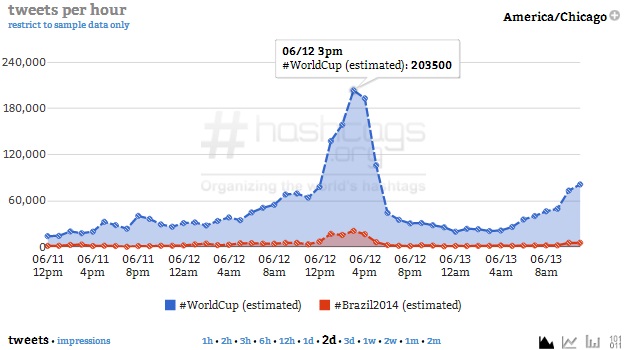 Courtesy of
Hashtags.org Analytics
Fans can also get the latest and complete coverage of games throughout the two-week tournament. Follow Mike Foss (
@themikefoss
) and Tim McGarry (
@mcgarrytime
) of USA TODAY to get fresh content and information about the games. Other sports and broadcasting networks also have official Twitter accounts which will provide live updates and coverage during the games such as ESPN and Fox Sports.