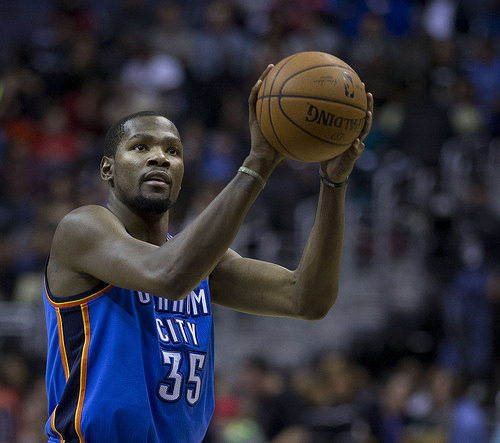 ??by?
?
Keith Allison
?
Fans of the Oklahoma City Thunders and Kevin Durant further discussed the recent NBA Most Valuable Player?s achievements on the hashtag #MVPDurant.
The hashtag started to trend well after Durant gave a 25-minute speech, thanking his coaches, family and teammates for all their support. He had a teary delivery in front of hundreds of fans waiting outside the building to cheer and celebrate with him in his recent milestone. Social media fans created memes and posters, paying tribute to Durant after averaging 32 points per game in a single season, being the fourth player to reach such a feat after Elgin Baylor, Wilt Chamberlain and Michael Jordan.
A lot of people also mentioned Durant?s official Twitter account @KDTrey5 to congratulate him and share how much they respect his work ethics and efforts in carrying the team despite the sporadic absence of all-star teammate Russell Westbrook. Much of the conversation revolved around Durant?s inspiring speech. There were also photos of Durant delivering his speech and emotional memes featuring him and his mother, whom he thanked at the end.
There were social media users who shared their favorite lines from the speech, showcasing Durant?s humility and passion for the game of basketball. A lot of people admired how much he credited his success to his mother, who singlehandedly raised him and made him to be the man he is today. Other hashtags were also created such as #KevinDurant and #ThunderUp. Others also praised Durant for showing his love for God and staying on the ground despite his many achievements.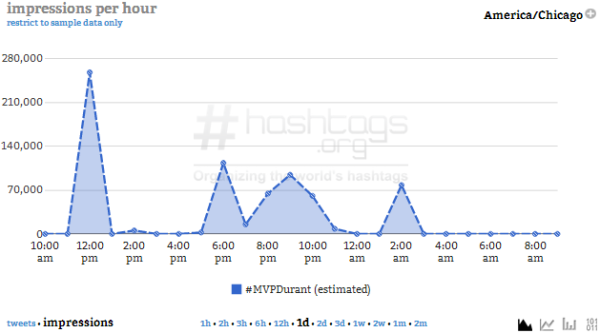 Courtesy of
Hashtags.org Analytics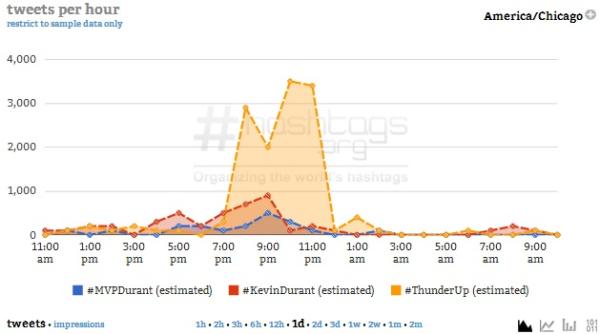 Courtesy of
Hashtags.org Analytics
The hashtag #MVPDurant is another indication that television viewers indeed resort to social media to get and share more information as well as post their comments about what they recently saw on TV and vice-versa. People can particularly find others watching the same show or have common interests then converse within the same platform.
Let's watch Durant's moving speech here.