??by?
?
jasonjkong
?
As one of the biggest events in the United States, the Super Bowl has been the center of talks months before it even commences. In social media, hashtags have been made especially for the contending teams where fans can talk about their favorite athletes and even try to predict the outcome of the games. As early as now, fans begin counting towards Super Bowl XLVIII, which is three months away. The hashtag
#FlyEaglesFly?
trended well on Twitter, reaching a total of 28,900 tweets as at November 5, 2013, as fans of the Philadelphia Eagles celebrate the recent win over Oakland. Many posted tweets of pictures of the game and shared shots of quarterback Nick Fole. The hashtag has also been used by fans to share their various football memorabilia and photos with a few known stars.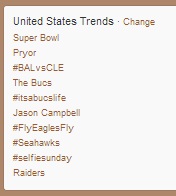 #Seahawks
also trended well with a total of 31,000 tweets as at November 5. The Seattle Seahawks continue to gain momentum on its big comeback by winning over the Buccaneers. Fans continue to talk about team strategy and praise how the Seahawks overcame a 21 deficit.
#NFL
,
#SuperBowlXLVIII
,
#BALvsCLE
and
#GoHawks
. A lot of advertisers have also capitalized on the popularity of the American game by creating hashtags related to their brand. Some companies initiated online contests where fans can win prizes and free food, tickets and football items when using these in their tweets.