??by?
?
storyspinn
?
Football fans recently led two hashtags to trending status to commemorate the retirement of jersey number 5 in honor of Donovan McNabb (@donovanjmcnabb). The ex-Eagle quarterback was celebrated during halftime at the game at Lincoln Financial Field on September 19, 2013 with #EaglesHonor5 and #FlyEaglesFly.
Donovan Jamal McNabb played in the National Football League for 13 seasons and was the second overall pick in the 1999 NFL Draft. Aside from leading the Eagles to Super Bowl XXXIX, he also brought the team to 5 NFC Championship Games and 4 NFC East division championships. He became the first quarterback in NFL history to throw more than 30 touchdowns and 10 interceptions in one season. He also played for the Minnesota Vikings and Washington Redskins before retiring from football.
The hashtag #FlyEaglesFly was where McNabb fans shared their appreciation for the all-star. Some cited their experiences of meeting him personally together with praises on how he had a very warm and approachable aura.
There were many who said that he was a Hall of Famer and deserved the jersey retirement, despite losing to the New England Patriots at the Super Bowl. Some fans shared photos of his jerseys as well as videos of his most inspiring plays.
Here's how their activity looked together, with #FlyEaglesFly peaking at 5,500 tweets and #EaglesHonor5 peaking at 3,800 tweets.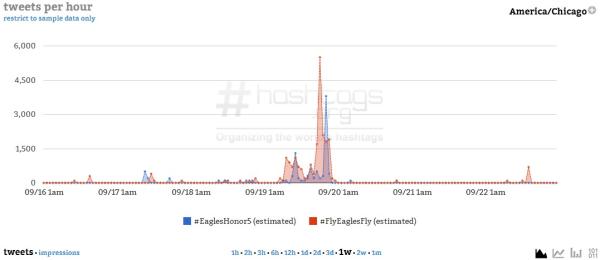 Courtesy of
Hashtags.org Analytics
Both hashtags enjoyed the limelight as fans continued to congratulate one of the greatest quarterbacks that the NFL ever had. Donovan McNabb is arguably the best quarterback who played for the Philadelphia Eagles, leading the team in career wins, pass completions, passing yards, passing touchdowns and pass attempts for all time.
Shortly after retirement, McNabb became a football analyst for the NFL Network. He is bound to work for Fox Sports Live in 2013. Football fans continue to thank him for the memories on #EaglesHonor5. Videos of his retirement press conference and the jersey commemoration are available for viewing on the hashtag.